Home » Laser Engraved Hangers
Laser Engraving, Etched and Etching on Coat/Clothes Hangers by Valentino's
Having your shop's name engraved on the hanger is a clever marketing idea, because when your customer takes it home then it is a constant reminder of your shop, every time they open their wardrobe. We can either print your name on a hanger, or we can laser engrave it.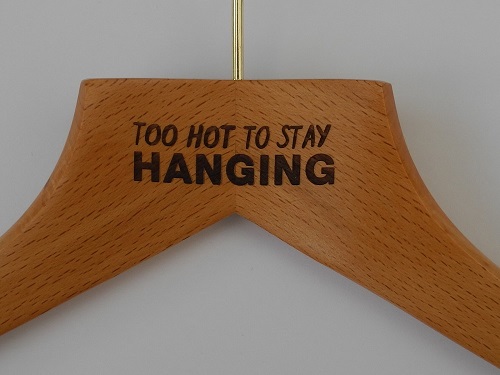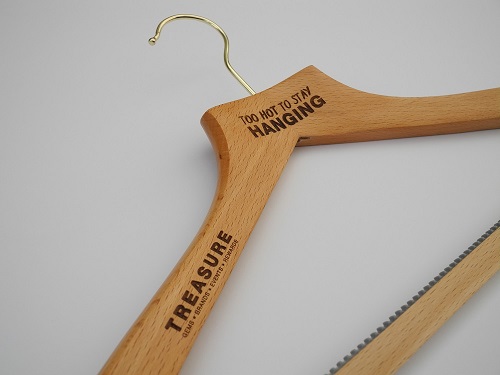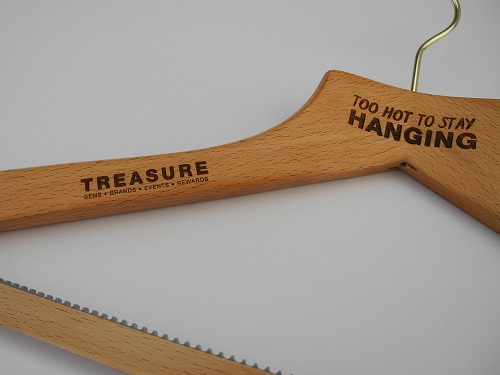 Our UK branded hangers are the perfect way to implement your brand into your shop. It is a fantastic way to stick out from your competitors and also to bring your trademark into the customer's home. Custom coat hangers can be extremely effective in making a long lasting impression.
For those customers looking for an alternative to printed hangers then laser engraved hangers could be a perfect display solution for you. Bespoke hangers typically consist of an ink print whether this is applied directly on the hanger or our personalised hangers in the form of vinyl stickers. However for those retailers looking for something different, creating a different effect with their clothes hangers then laser engraved hangers could be a great alternative.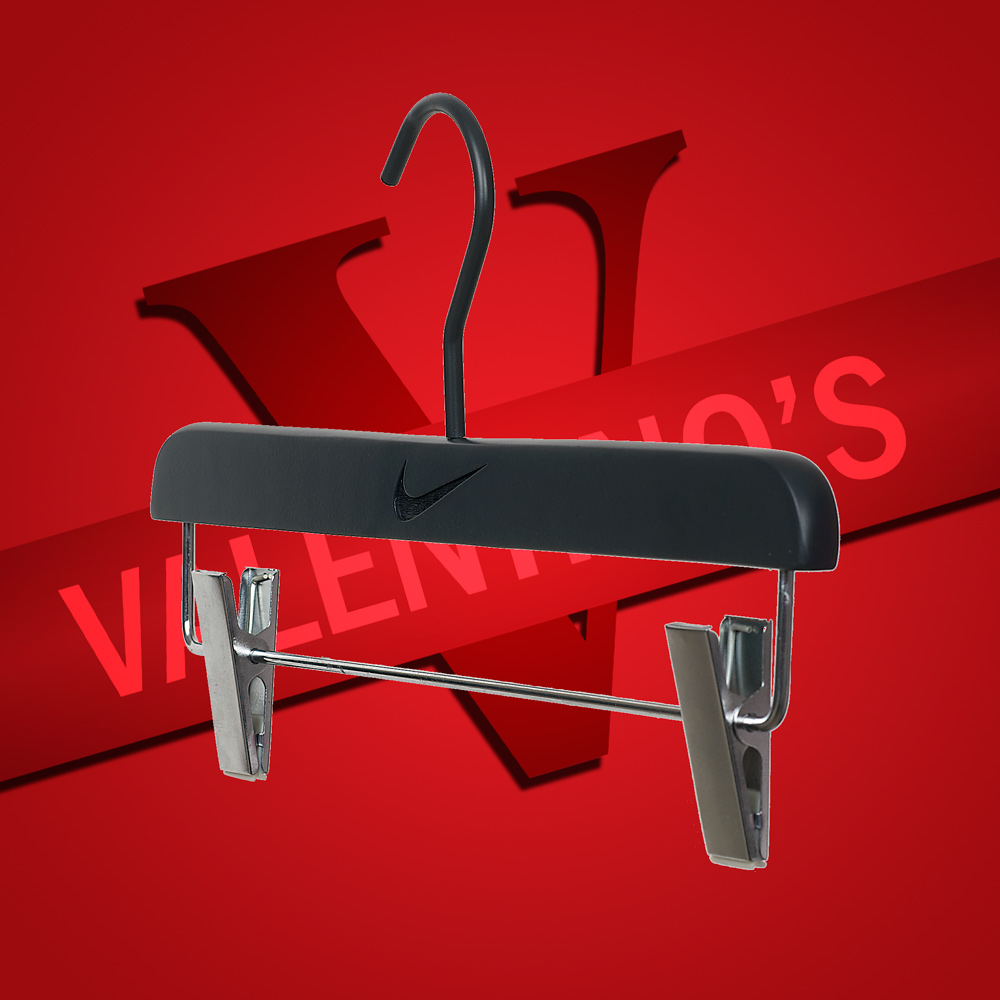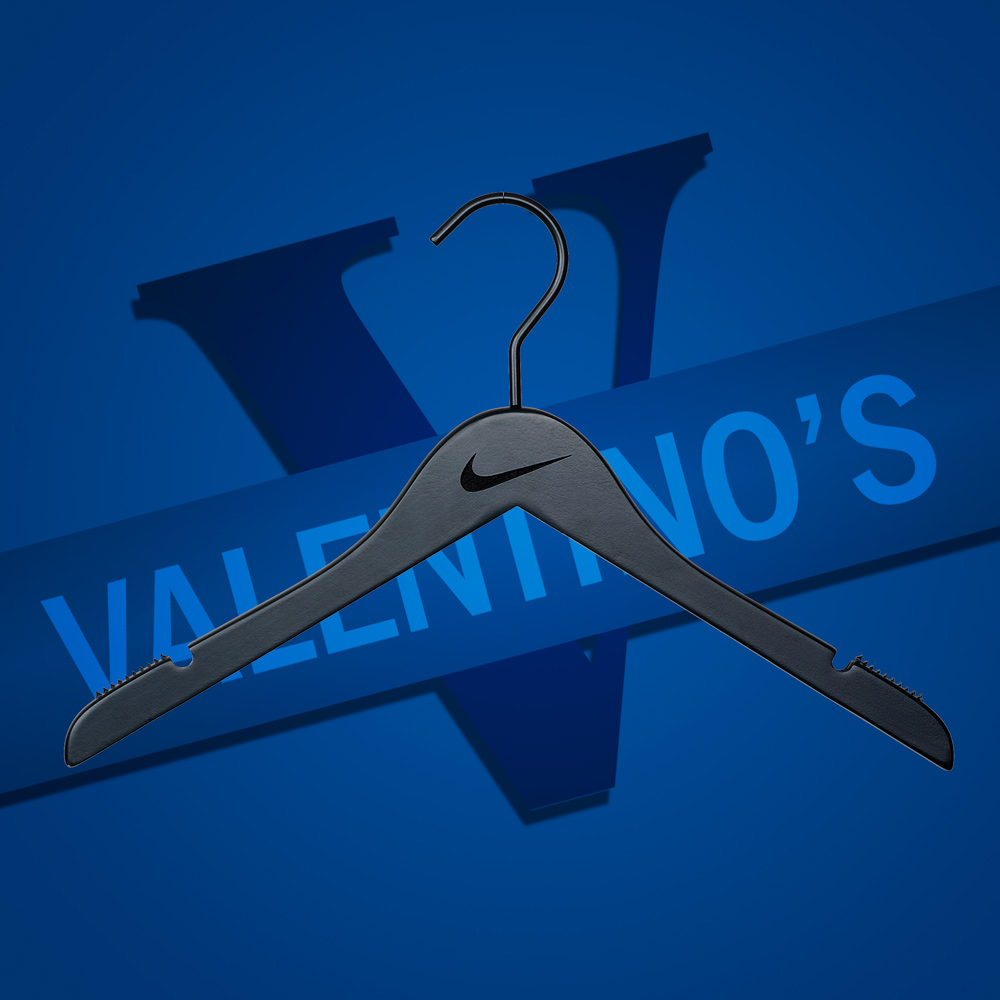 The process
Our state of the art laser machine can be used for the engraving and cutting of a vast range of materials, including wooden coat hangers. Any design, image or text can be cut into the surface of a material including photographic images. These can be engraved to varying depth to give an embossed effect, providing you with a unique finish to your display.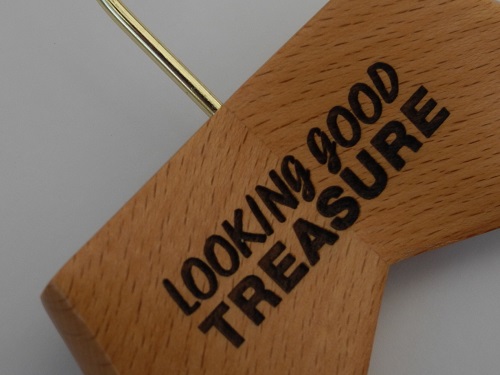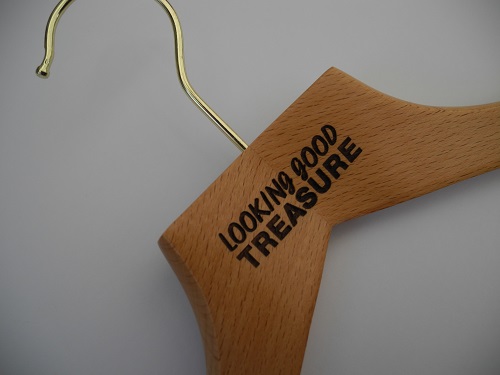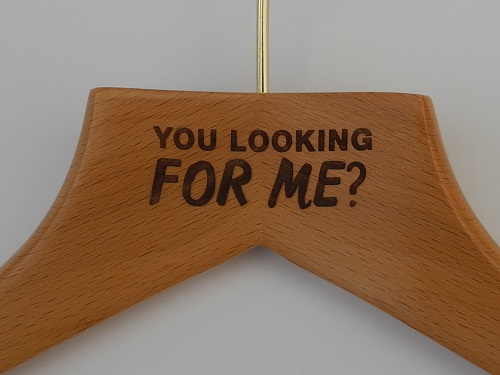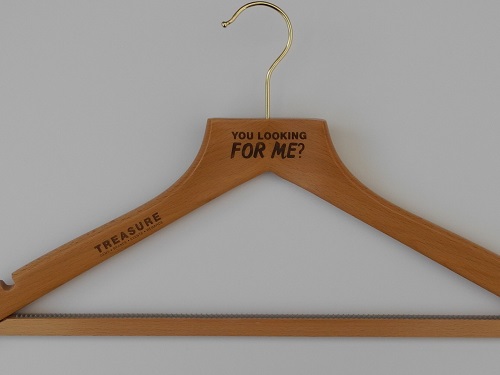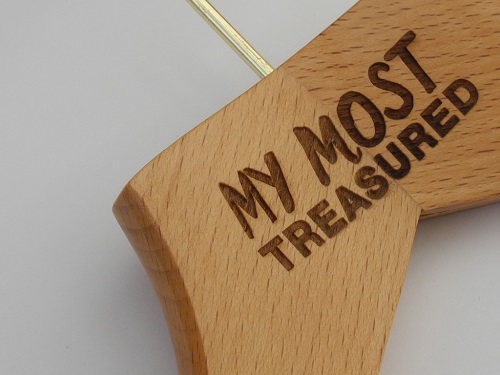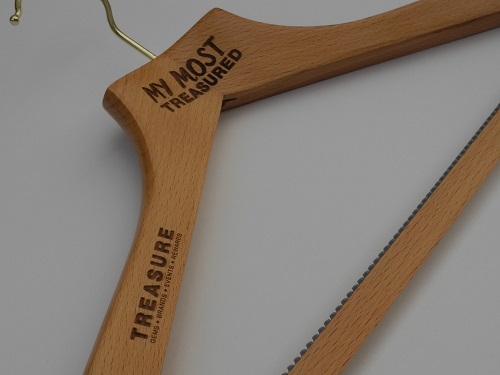 Some retail customers of ours tend to give the branded hanger to their customers after a sale and some keep the hangers in their retail store. If you feel an ink print hanger is not for you then a laser engraved hanger option may be the perfect custom hangers for you. Laser etched logos into the wooden or plastic hanger creating a display full of impact on your consumers eyes as you can see from the hangers we have already produced.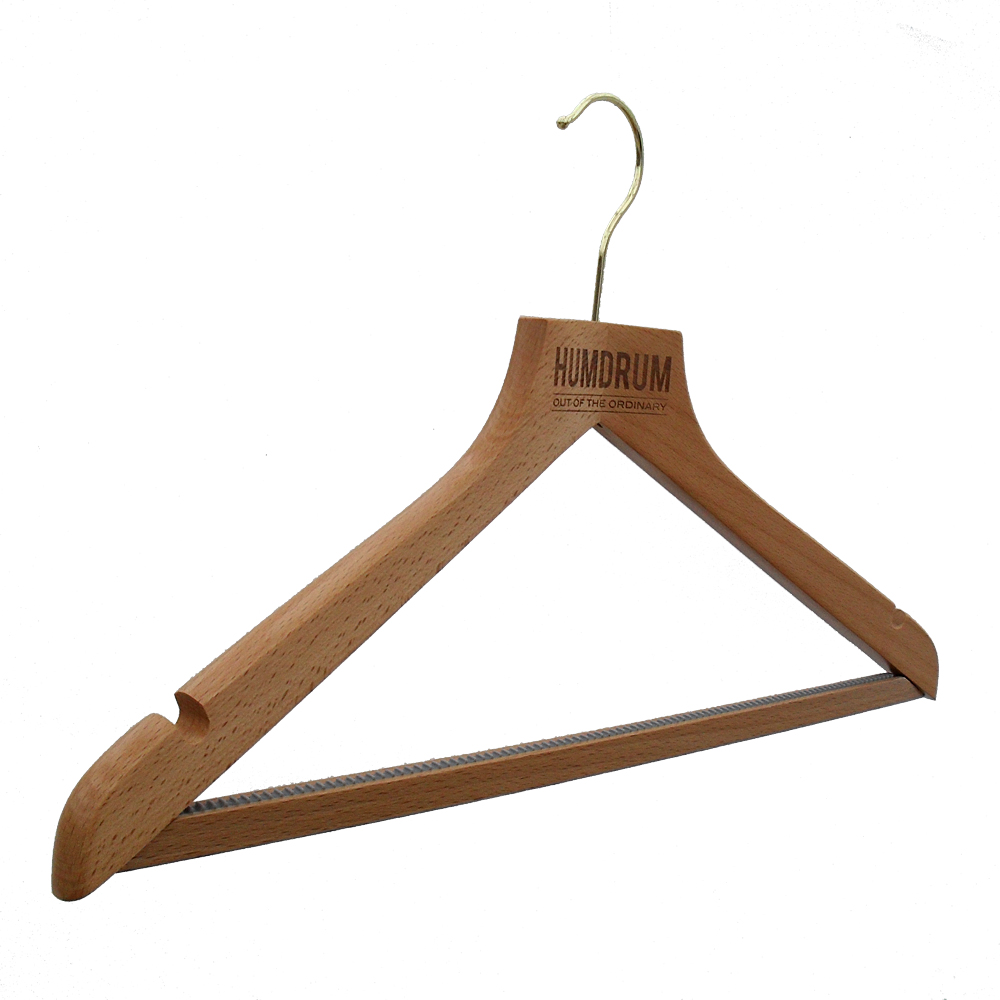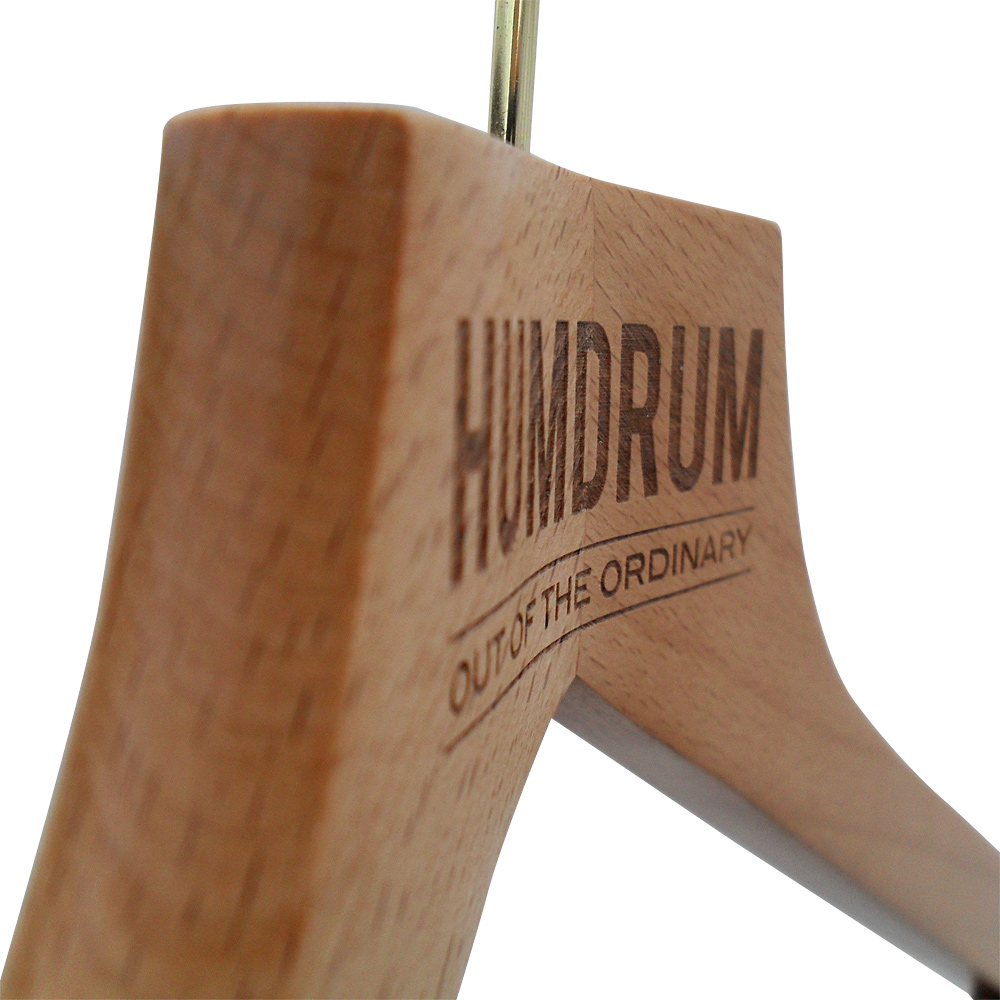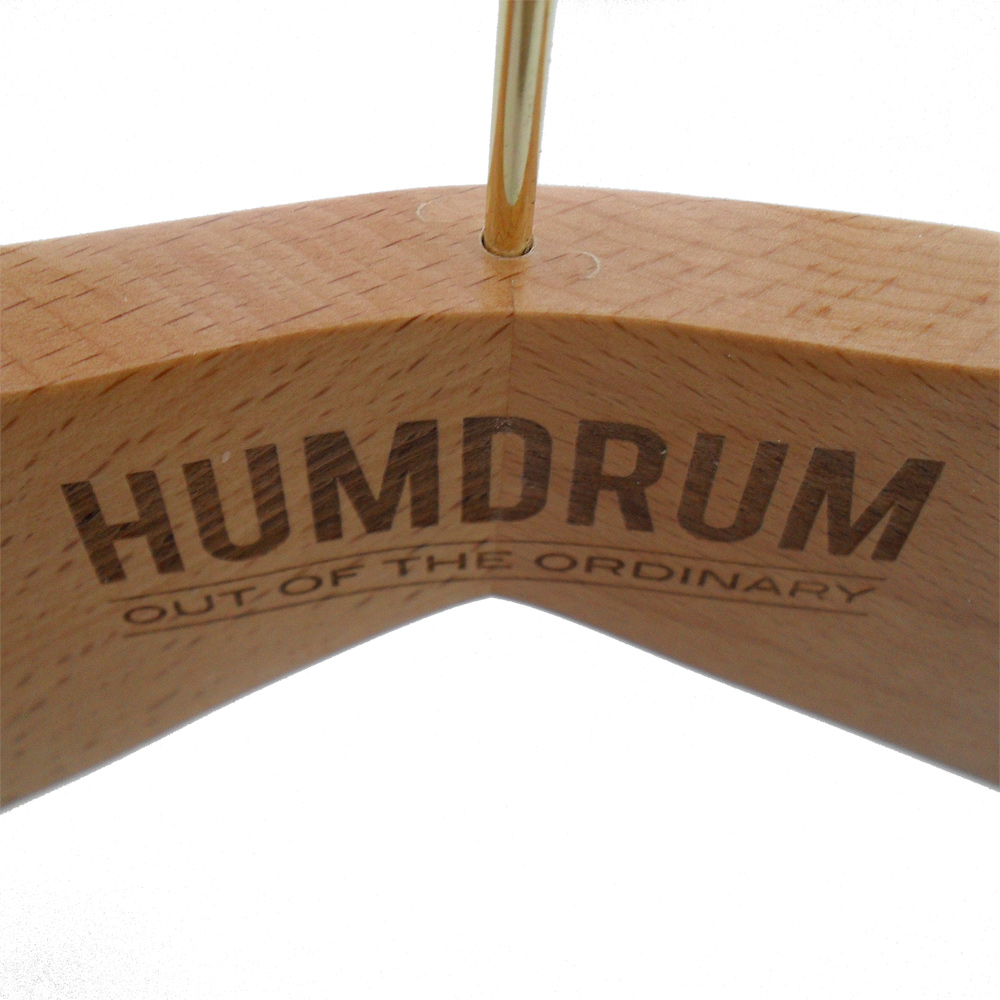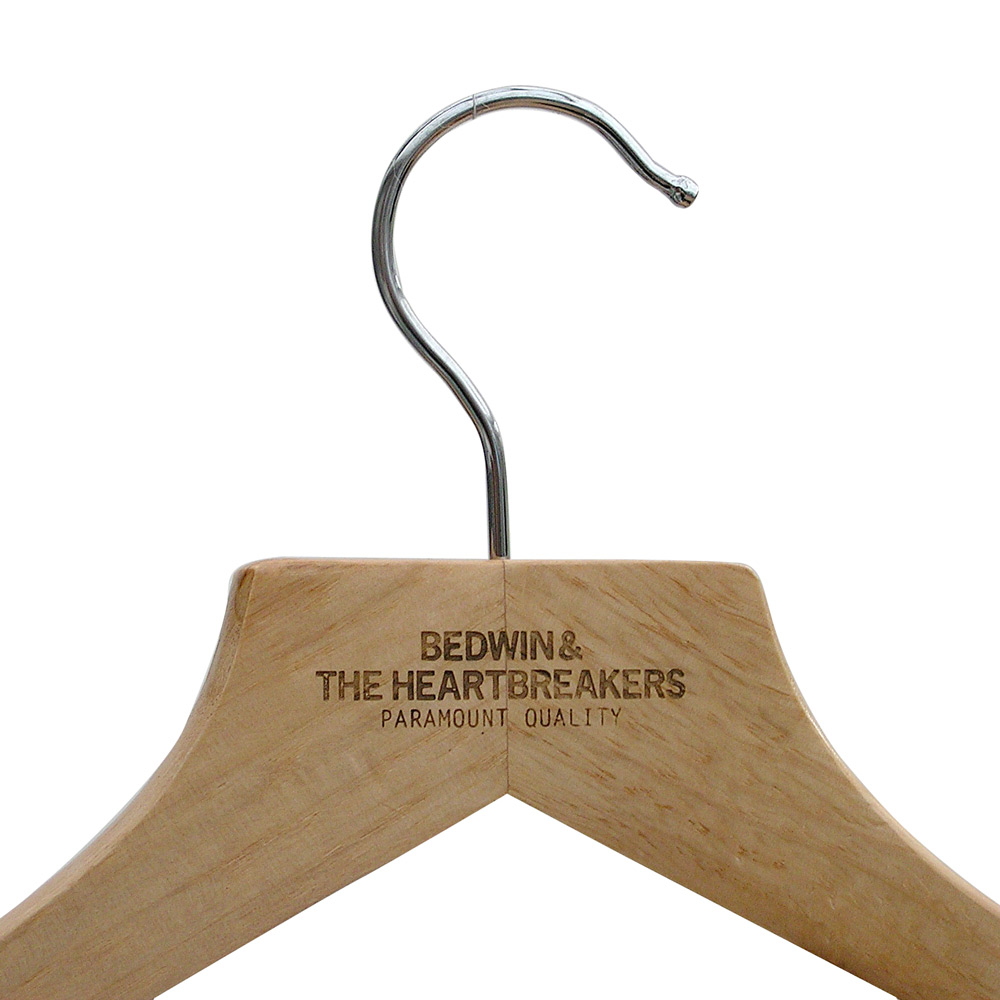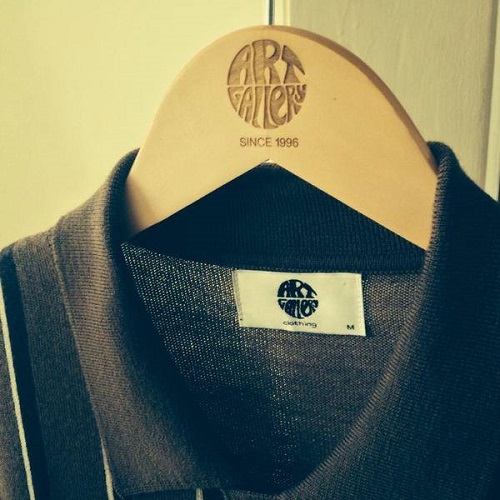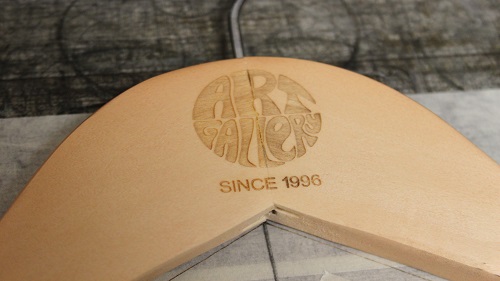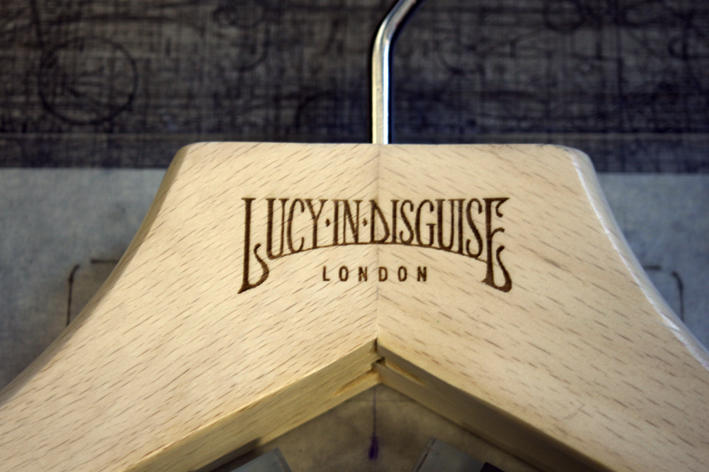 The benefits of having custom printed and laser engraved hangers in retail
Superb marketing tool

- reminds customers of your logo, brand & company. Will remind customers where they made a particular purchase for example if a suit was in your wardrobe on the original hanger and you needed a further purchase the hanger would be a great marketing tool so it potentially can up sell and your customers may go back to the store if their experience of the retail store was a good one.



Highly visible

-

up to four colour hanger print. Will stand out from the crowd than normal unbranded retail hangers. Whether you are looking to use your company logo or brand Valentino's Displays can produce up to a four colour ink print on your wooden or plastic hangers. You may decide you would rather have your hangers laser engraved. This again is no problem and creates a different type of impression, the images on this page show our recent projects involving ink print & laser engraved coat hangers in a retail environment.



Lasting impression on customers
Effective way to visually merchandise your product
No minimum order quantity
- however please check our website as some hangers we sell by the box quantity so in some cases this can be 50 or 100 hangers.



Long lasting

- your hangers will last years, the standard of our work is second to none and you will be impressed with the service and quality of our hangers and printing.
Superb prices
-
please send us your logo by email to;
info@valentinosdisplays.com
so we can quote you on bespoke custom personalised branded hangers or contact us on 01489 808007.
Testimonials
Don't just take our opinion on our Custom Hangers, read what our customers say about the service;
We would be more than happy to supply client's details to any potential customer looking for printed hangers on the approval and acknowledgement of our existing clients to speak directly about the quality of our work and service received from us at Valentino's Displays.
We will seek permission from our clients prior to passing out their contact details if you are in any doubt at all.