Home » Personalised Hangers
Personalised Coat Hangers by Valentino's Displays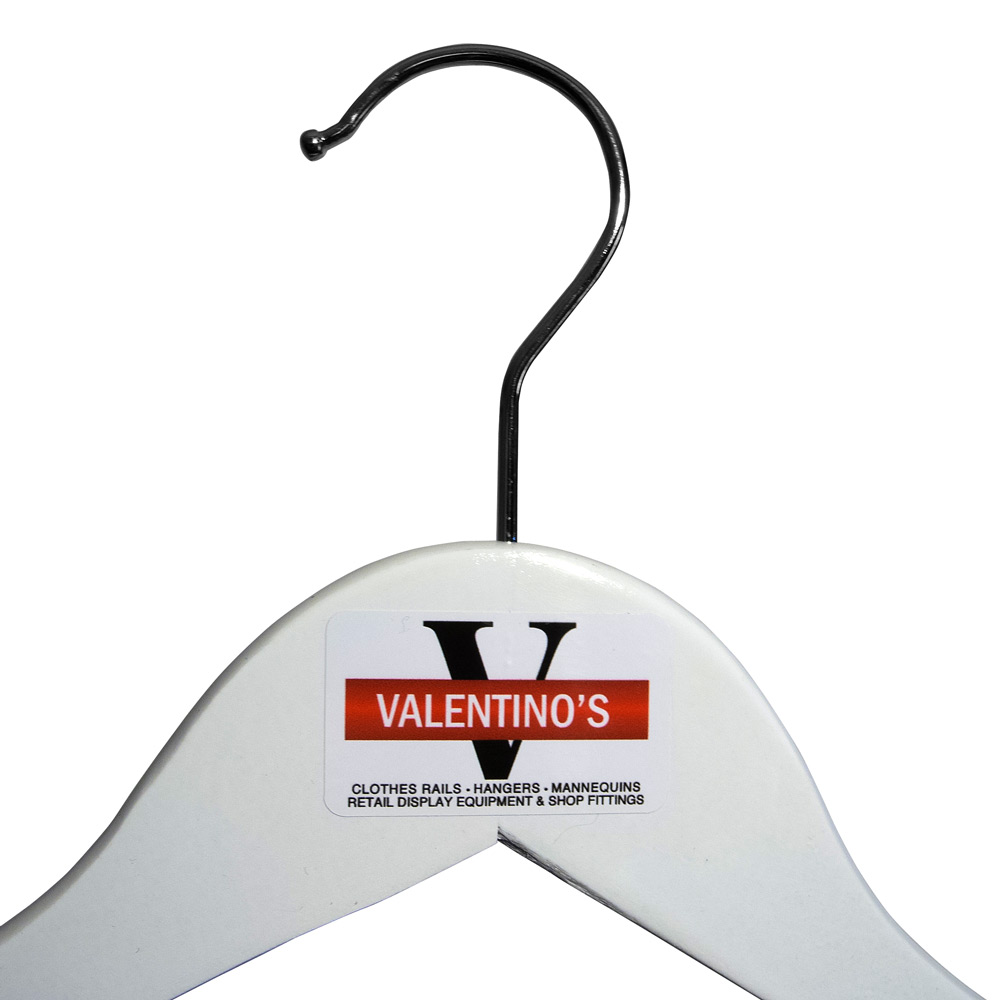 If you are a fashion retailer and are looking for something different and an alternative to our standard branded hangers then vinyl stickers may be a solution for you when you are thinking about personalising your hangers. We always want to offer our customers as much choice as possible when it comes to their displays and especially the bespoke displays we offer.
As we believe image is everything especially in the retail industry its very important whats within your shop matches your brand image and this includes your displays after all your products are likely to be visually merchandised from it. Whether your a large, medium or small sized retailer we can offer branded hangers to make those eye catching displays and provide that marketing tool when it comes to advertising your company and brand. Highly visible and likely to make a long lasting impression on your customers, hanger printing is a effective way to merchandise your product and set you apart from the rest!
The images on this page show personalised hangers in the form of vinyl stickers with a self adhesive backing to apply directly on the hangers. This option is a cheaper alternative than our standard branding options which are ink printed hangers & laser engraved hangers where your logo is etched into the wood. Vinyl stickers can come in all shapes and sizes with a full colour print. We also don't expect you to have a large quantity of these so can work off small runs if required. In terms of delivery lead time we usually cater for our client's timescales so if you need them within a tight deadline we are more than likely to be able to do this for you.
We have a wealth of experience with a lot of our bespoke hanger work visible for our customers which they can see by visiting our case studies.
For those interested in more information about our bespoke custom hangers then please email us at; info@valentinosdisplays.com or call us on 01489 808007. If you are able to email us your logo in a high resolution file usually a PDF format is more than sufficient and let us know which hanger you are interested and the quantity you require we can get back to you on the different options available to you and the costs involved.
Most customers like us to quote on all the alternatives available to them so they have a comparison available to them this of course is no problem for us.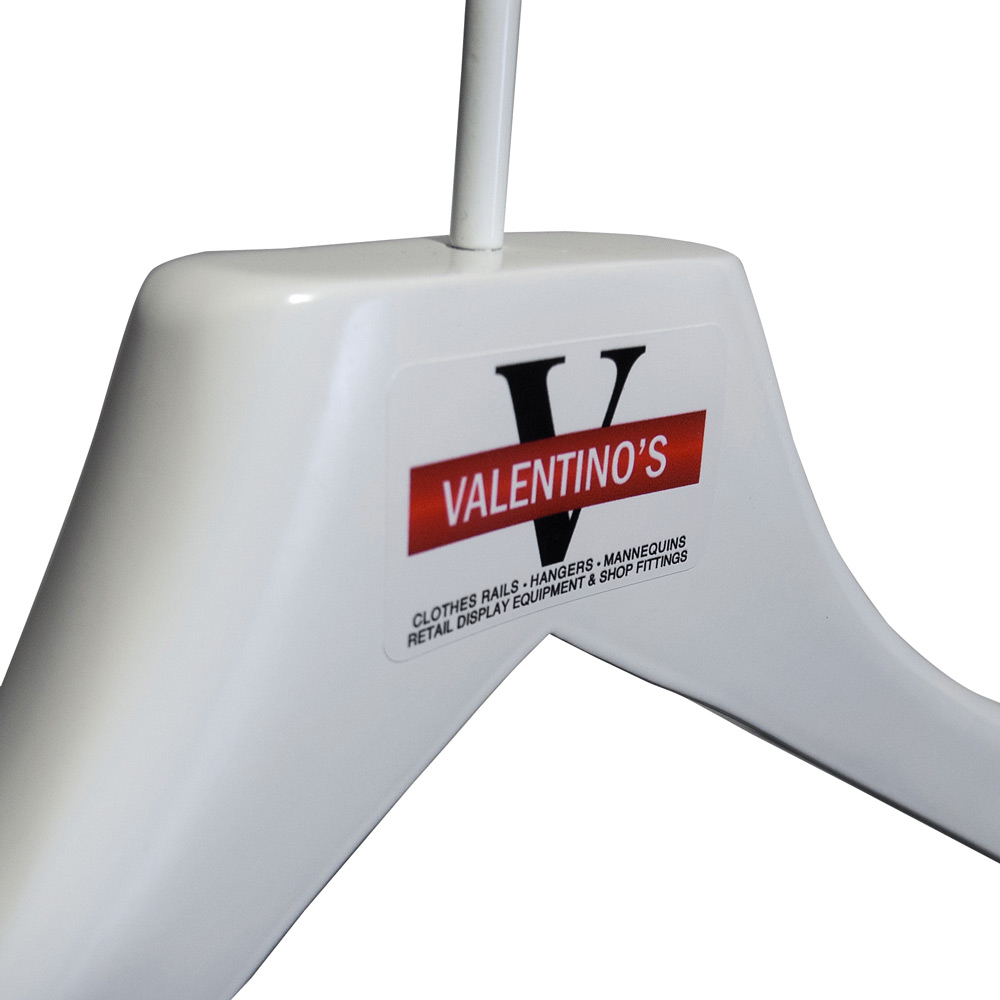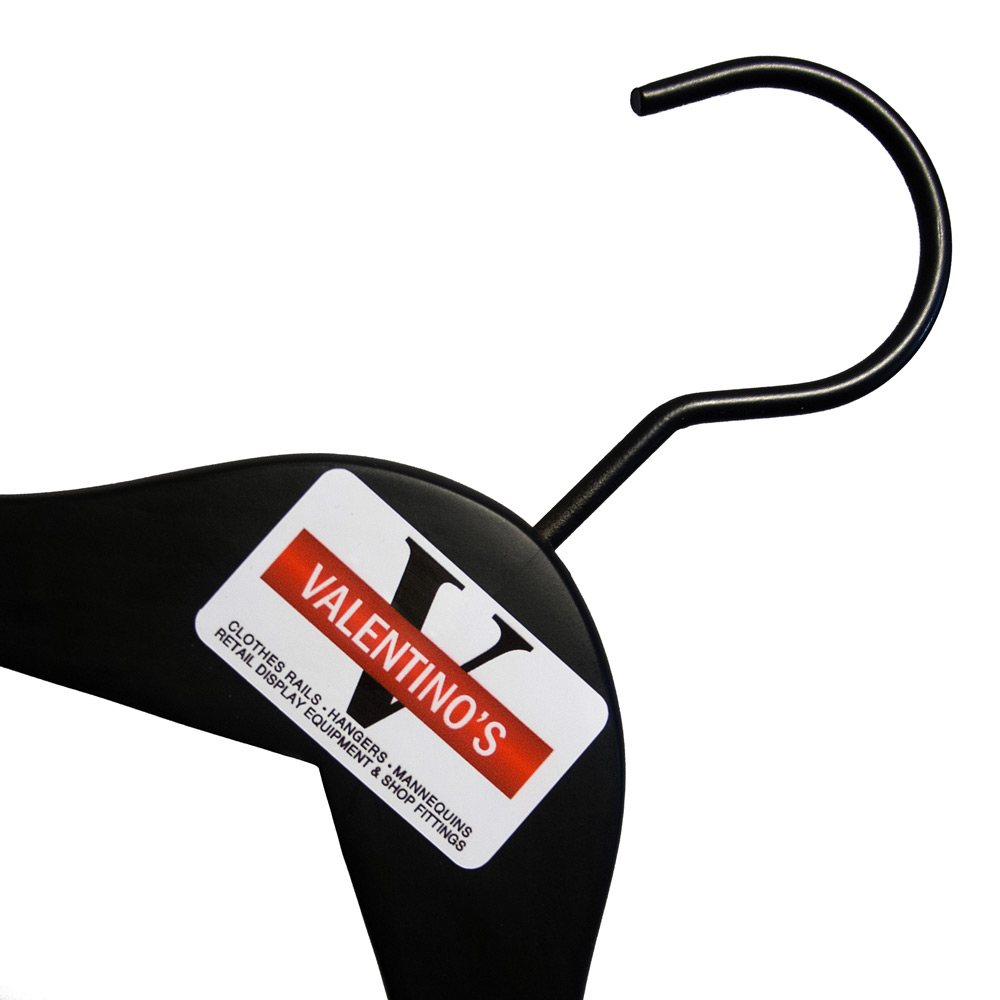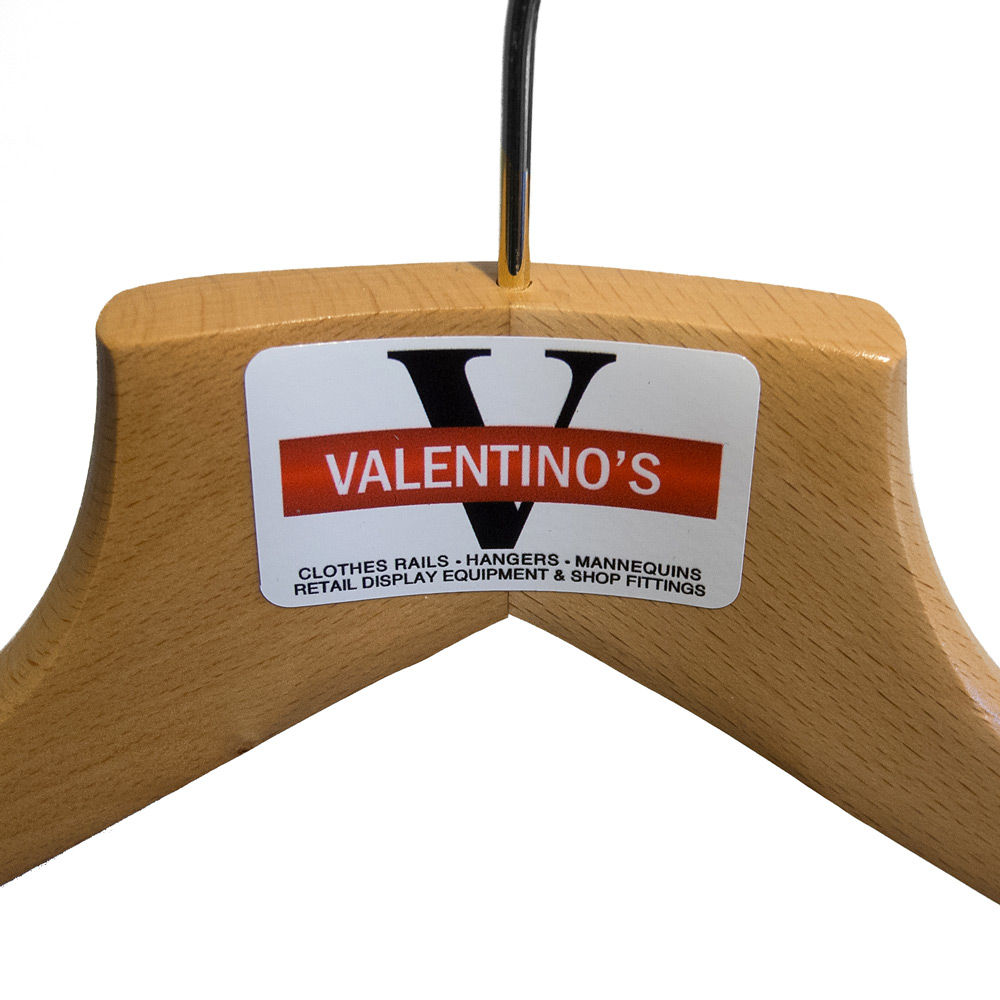 The benefits of having custom printed and laser engraved hangers in retail
Superb marketing tool

- reminds customers of your logo, brand & company. Will remind customers where they made a particular purchase for example if a suit was in your wardrobe on the original hanger and you needed a further purchase the hanger would be a great marketing tool so it potentially can up sell and your customers may go back to the store if their experience of the retail store was a good one.



Highly visible

-

up to four colour hanger print. Will stand out from the crowd than normal unbranded retail hangers. Whether you are looking to use your company logo or brand Valentino's Displays can produce up to a four colour ink print on your wooden or plastic hangers.



Lasting impression on customers
Effective way to visually merchandise your product
No minimum order quantity
- however please check our website as some hangers we sell by the box quantity so in some cases this can be 50 or 100 hangers.



Long lasting

- your hangers will last years, the standard of our work is second to none and you will be impressed with the service and quality of our hangers and printing.
Superb prices
-
please send us your logo by email to;
info@valentinosdisplays.com
so we can quote you on bespoke custom personalised branded hangers or contact us on 01489 808007.
Testimonials
Don't just take our opinion on our Custom Hangers, read what our customers say about the service;
We would be more than happy to supply client's details to any potential customer looking for printed hangers on the approval and acknowledgement of our existing clients to speak directly about the quality of our work and service received from us at Valentino's Displays.
We will seek permission from our clients prior to passing out their contact details if you are in any doubt at all.