Whether you look at a large department store, a high street shop or an independent boutique, the visual merchandising is the underlying thought process to ensure a great experience. From the first impression and impact of the store's window display to the emotional response of the layout and lighting inside, visual merchandising generates the overall vibe of the store. This is an essential part of producing a successful shop, as it dictates whether customers enter, purchase and ultimately return.
When it comes to smaller stores with limited interior space, visual merchandising can become more difficult, but ever more fundamental. Using the space wisely involves utilising the best possible fixtures and fittings, as well as creating the ideal layout for your shoppers.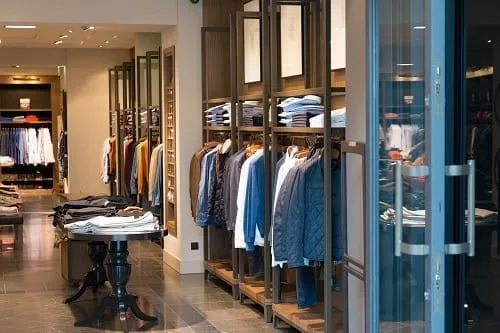 IMAGE: Pexels
Here, we take a look at 5 top tips for fantastic visual merchandising in a smaller spaced store.
1. Think From Above
When planning the store layout, firstly consider a floorplan. Space to enjoy the store and browse the products is equally as important as space to display sellable items to ensure the customer never feels overwhelmed. Equally important is considering visibility. It might sound simple, but smaller shops especially should use smaller fixtures towards the front of the store to allow a visual path directly to the back of the shop, making the area feel instantly bigger for approaching customers.
2. Use Your POS
Hopefully, your customers will find themselves happily at your Point of Sale at some point during their visit. For small stores, in particular, this is a great place to subtly display smaller, high margin products without creating clutter within the rest of the space. Customers can stand at a POS for a lengthened period of time; ensure to maximise this time to its full potential.
3. Maximise Your Window Displays
For small interior spaces, it's critical for stores to maximise the potential of their window displays. Shops should see windows as an extension of the inside, particularly if wall space is tight within the store. A continuous theme between window and interior is key, as mentioned in our last blog, all about the most common visual merchandising mistakes. Draw customers in with a beautifully themed display and ensure the products included are apparent and accessible instantly upon entering.
4. Use Vertical Space
Vertical space basically means using different levels of displays to showcase more products in a less obvious way. Not only does it mean being able to display more merchandise but it also elongates the wall to create the feel of a larger space. To do this without creating clutter, think outside the box and away from shelving and monotonous rails. Displaying products in a more adventurous and artistic way, higher up in the store, not only advertises your stock but creates interest and Instagram photo-opportunities.
5. Perfect Your Lighting
Lighting is key to creating a mood and can actually increase the perception of space within your store if done correctly. By highlighting potentially hidden spaces and corners, you can open out the store and maximise every inch.
Working hard to ensure your visual merchandising instore is both in line with your brand and comfortable and accessible for your customers is essential. These top 5 tips for making the very best use of the space in a smaller unit, alongside ensuring you have the perfect equipment, will help you to succeed in creating the perfect instore environment. For help on the best fixtures and displays to make your store stand out, contact Valentino's Displays for friendly, expert and free advice.