All our net shopping baskets are manufactured in the UK, to a very high standard. We make various shapes and sizes, in an assortment of colours and textures, or we can customise to your display needs. Placed near shop entrances these retail shopping baskets encourage customers to pick up and start browsing.
If a customer walks through the store with a mesh basket they are far more likely to make impulse purchases.
Convenient, lightweight, easy to use and designed to hold a variety of company products commonly used in retailers for small on the shelf items. Ideal for gift shops, department stores, chemists and other retailers to name but a few.
We currently manufacture Micra, Silklon and Supertex net baskets. Hand crafted by us and

manufactured from strong fishing net material. They come with a comfortable plastic handle and are a great alternative to space consuming metal or plastic baskets which you commonly see on the high street.
They are also an alternative to wicker baskets. Wicker baskets display tend to take up more floor space, not convenient to store and are heavier for the customers to carry.
The difference between our fabrics - Supertex, Micra and Silklon is the texture and appearance. In terms of functionality, they will all do the same job.

To summarise the differences between the three types of British fabric we offer:


Supertex

– 100% polyester. Soft fabric with holes approx 5mm apart.


Micra

– 100% polyester. Our most popular fabric. Unlike the other 2 materials – you are able to see through the basket.


Silklon

– 100% polyester. Silky fabric. This fabric has no holes.
100% polyester fabric using the finest UK components to create each basket
Our cheap net shopping baskets vary in size. Our smallest retail baskets are 8 inch in diameter. We also manufacture and stock a size of 10, 12, 14 up to our largest and most popular size our 16 inch net basket. We offer chrome UK net basket stands to house your net baskets when they are not being used on the shop floor. Our small and large display stand are supplied flat-packed for easy self-assembly using a cross head screwdriver (not supplied). Each basket stacker holds up to 50, once stacked on display.
Need a bespoke order? If you are looking for branded retail baskets printed with your corporate logo then this is a service we offer. You can see some of our custom work in the images below. Our
shopping baskets for sale
are printed within the UK so you can be sure of the quality of the product you'll receive.
We're able to print multiple colour logos and depending on the size of the print, up to 4 prints per bag. You will be receiving the very best quality retail baskets on the retail market today! We can also show you a visual proof and send you a sample of what you'll be getting from us, to put your mind at ease.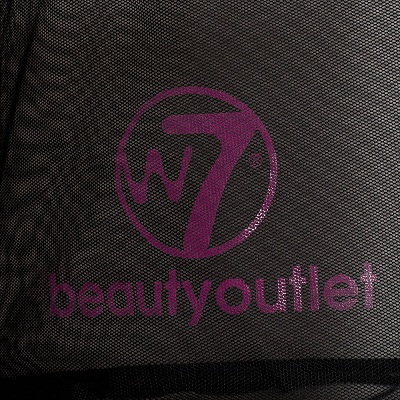 If you have a shopping bag requirement and our standard range on our website is not quite suitable for your retailing display, speak to us and we will endeavor to customise our display baskets to suit your requirements. Looking for a different size and/or colour? We can help
, please contact us for more information if you are looking for something more bespoke - 01489 808007.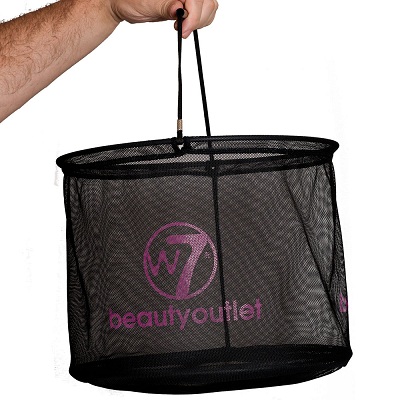 All these lightweight hand baskets for shopping are sold individually and eligible for free delivery for any UK order over £100. Discounts available for larger quantities ordered. Typically dispatched the same day, our shopping baskets UK could be with you the very next working day. Worldwide customers can also order these range baskets directly at Valentino's Displays. The website will take your orders. Once an order is confirmed we will be in touch to discuss the various shipping methods we have available to you. You then choose whether you wish to proceed.
Not satisfied? Return your goods within 14 days of purchase for a money back guarantee - we are confident in our products! We're also confident we'll not be beaten on price with the cheapest prices in the UK. Buy collapsible net shopping bags today from the number 1 baskets store!