Shop Gondola - Best Wishes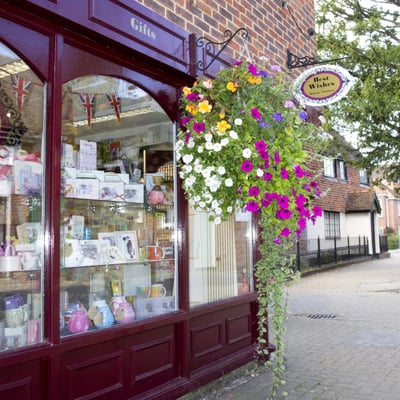 When a high street greetings card shop needed a retail gondola display for their store, they knew Valentino's Displays were the right supplier to choose. They had very specific requirements, including matching their new items to the shopfittings they already owned, and needed the items to fit perfectly in the space they had available. Here's how we tackled this project.

Our client

Best Wishes are a Southampton based independent greetings card retailer, located in the Bishops Waltham area of the city. Selling a huge variety of cards for all occasions, they also sell mugs, stationery, wrapping paper and gifts. Recently they have launched a helium balloon service too.

Our customer's goal

Our customer needed a perfectly sized retail shop gondola to fit in their store so they could display their products in an attractive, professional manner. They had seen plenty of retail gondolas for sale, but none which fitted in well with their existing shop fittings. They heard that for custom shop equipment UK businesses could work with us, and got in touch to see if we could create the perfect product for them. As well as the retail shop gondola, our customer wanted to order a number of greetings card display stands in a maple colour, which also had to fit in with the current shop fittings.

Our approach

We knew these retail gondola units had to be top quality and designed just right to fit in with the existing shopfittings. We had produced numerous
retail gondola display
solutions for other clients, and knew we could do a great job for this customer.
We had to think about the space available, and thankfully Best Wishes sent us precise measurements of the store and the space for the retail shop gondola. We had agreed to supply the card stands in a maple colour, but knew the retail gondola units needed to stand out from the displays. For this reason, we agreed with the customer to produce them in mainly glass, making it easier to see products on all the shelves.
We got to work producing all the
shopfitting supplies
for this customer, and quickly had them ready to go. The project was completed and we delivered the items fast, directly to their retail premises in Bishops Waltham. As with all our retail gondolas for sale, the items were delivered assembled so the customer had no concerns about putting them together.
The end results

Because Valentino's Displays is also based in Southampton, we were delighted to be able to help out a local business with some gorgeous new products for their store. We think that all these shopfitting supplies turned out brilliantly, and our customer was inclined to agree. They commented that:
"It was great to meet you too today. We will hopefully assemble the unit over the weekend and then will certainly take some photos for you of the units and the shop before we open. I would be more than happy for you to use them. I'm very glad that I found you, especially as I'm local and didn't know you existed. I would also recommend you to anyone looking for shop fittings or supplies, you have been very efficient".
If you're looking to buy a shop gondola for retail premises, or need any other shopfitting supplies for your business, we're here to help. We deliver our
shop equipment UK
wide, so whether you're local or hundreds of miles away, you can still choose to work with us. Call us today for more information, and see if we can build the perfect shop gondola for retail stores for you.