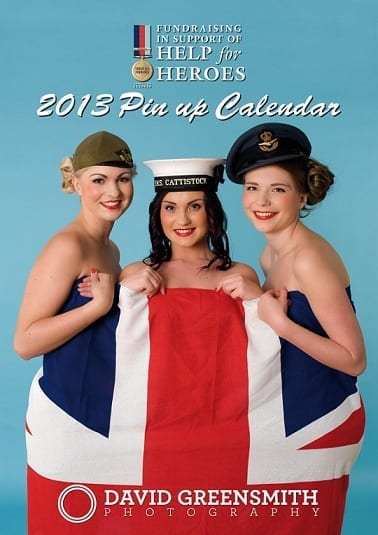 Valentino's has recently been supporting Help for Heroes vintage-inspired Pin-Up Calendar 2013 by David Greensmith Photography.

David Greensmith Photography has produced its first calendar to date, which this year is in aid of Help for Heroes. Help for Heroes is a charity formed to help those who have been wounded in Britain's current conflicts.
David Greensmith and his fantastic team of models & stylists have worked tirelessly to create fun and cheeky images to amuse and delight people for the coming year 2013. Each image is associated with that particular month of the year.
A3 in size they will be available for £10.00 each with around £5.00 going straight to the charity per calendar sold. If you are further afield from us in Hampshire then for £3.50 these can be posted to you now, in time for Christmas! Ideal as a gift or simply as a purchase for your own use. To find out more you can visit David Greensmith Photography.
Thank you for purchasing these calendars you are supporting a great cause. We think the calendar and the hard work that went into this have been worth it by the superb images taken. Below are some images of certain months as well as a behind-the-scenes video on the making of the calendar, we hope you enjoy it!