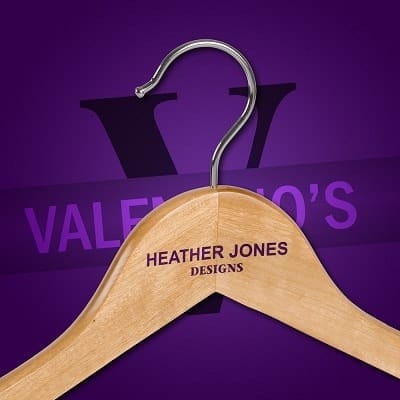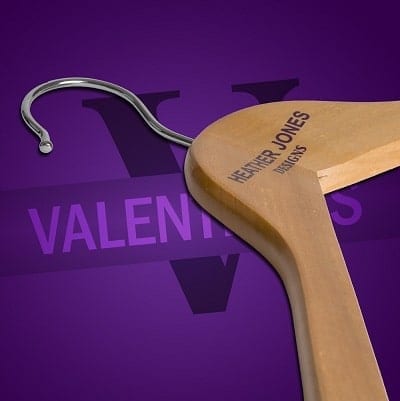 Again, Valentino's Displays were asked to produce bespoke coat hangers for a fashion client of ours Heather Jones Designs. We are one of the UK's finest suppliers of shop display and retail equipment supplying customers worldwide. Valentino's Displays provide an extensive product range and pride itself on offering a personalised service making us your one-stop-shop for all your retail display needs.

Our client – Heather Jones
Heather is a quintessential artist of this millennium representing the transitional era of self-assertion and individuality. ​Her designs are motivated to make women feel good about themselves, to empower and inspire.
The endless limitation of her work is like a powerful river with countless branches, which develops into outrageous waterfalls. Her work brings a divine blessing to each individual that comes into contact with her designs. They can imagine the warm tropical nights, cool sensuous days, deliciously soothing waters, the earthly rich flora of orchids and hibiscuses. All woven into the magical loom that Heather creates.
Branded hangers for top fashion designer
Heather has now become an icon in the fashion industry. She has taken fashion from an idea into the global marketplace. In 2008 Heather Jones introduced their collections to the South American market at the Plataforma K2010 Fashion & Business Show in Columbia.
Heather Jones achievements have not been without accolade over the years. In 2005 Heather won the Woman of Great Esteem Award from New York's Woman of Great Esteem Foundation. 2008 saw Heather win the Best Trinidad & Tobago Designer Award. By 2009 Heather was scooping the National Award of Trinidad & Tobago Contributions to Fashion.
Retail hangers branded by us at Valentino's
Branded hangers in the form of natural wooden hangers with a purple ink print applied to the surface of the hanger. A simpler job for us where solely text was pad printed. The results speak for themselves. So if you need your coat hangers branded, contact one of the UK's finest shopfitting suppliers Valentino's Displays today!