Need custom clothes hangers? Your guide to printed hangers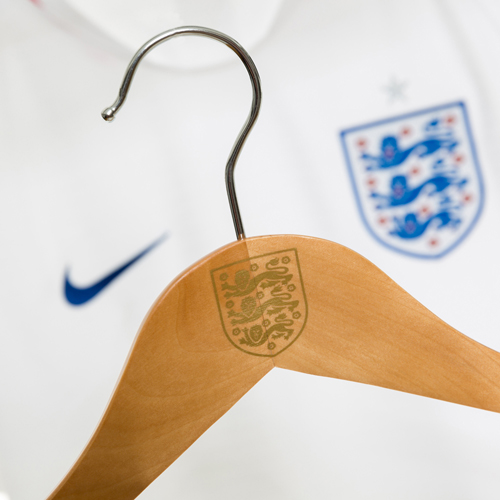 Custom hangers UK manufactured
Valentino's Display cheap coat hangers will leave a lasting impression on any customer that enters your store. With a huge range of styles and colours to choose from,
printed clothes hangers
or our
laser engraved hangers
are an effective way to display your garment in style. Our UK printed branded hangers are the perfect way to implement your company into your shop. Not many professional retail stores will have
hangers custom made
with their logo on, however going the extra mile and having them coloured to match will certainly make you stand out from the crowd. No matter the brand, provide us with a logo and the correct colours and we will do the rest on producing custom
bespoke coat hangers
from leading hanger manufacturers in the UK.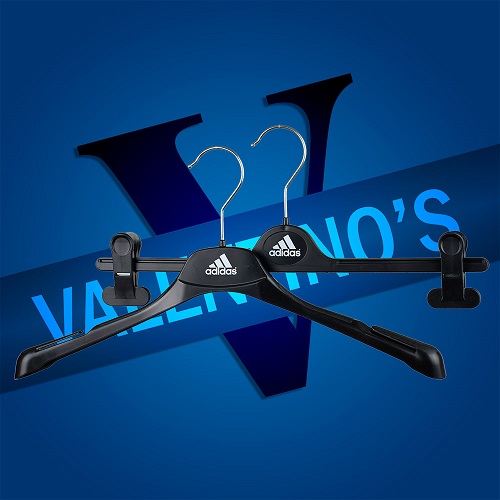 Custom imprinted hangers with logo
Coat hangers are a generic item used by billions of individuals and retailers across the world. So how do you own eye-catching hangers? Simple, let us create for you perfectly bespoke custom hangers to stand out proud in-store and attract customers to your clothing? Select from any of our retail
wooden hangers
or
plastic hangers
and we can have your logo printed on the centre of the hanger. We can do the whole service for you and deliver to your retail store ready to use.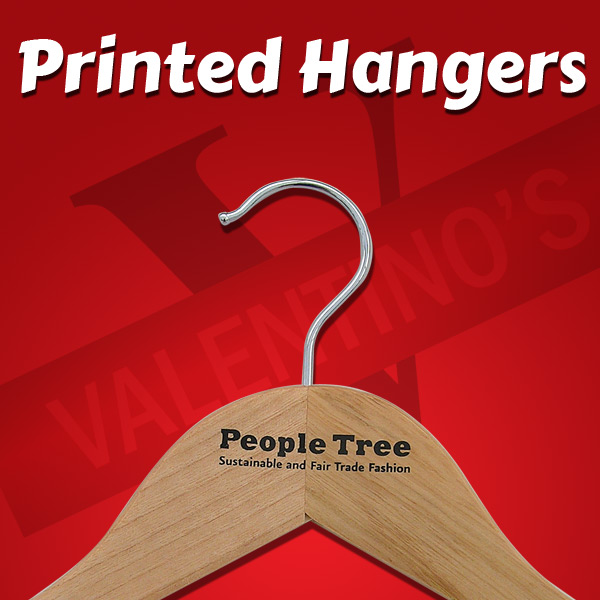 The pad printing process for eye-catching printed hangers

The pad printing process involves an image etched into a steel plate which holds a layer of ink. The image is collected by a soft silicone pad which then transfers the ink onto a product. A huge array of different products can be printed including wooden clothes hangers and plastic hangers. The pad used for printing comes in a variety of shapes and sizes and can be custom made to suit any display.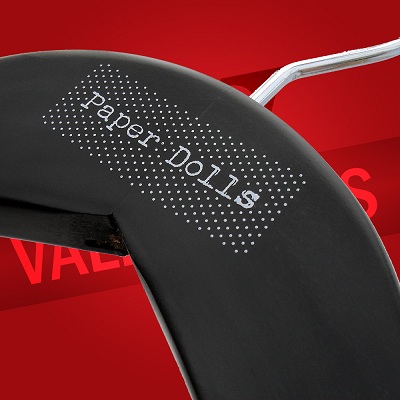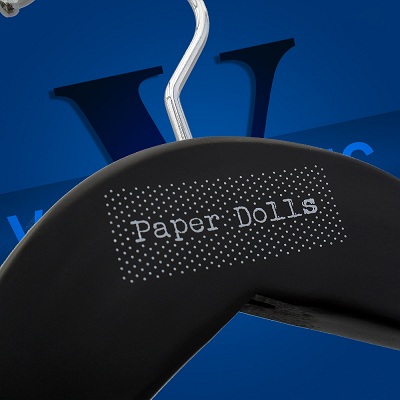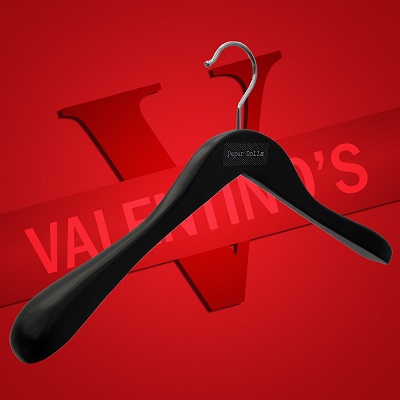 Why order custom hangers with logo?

Our
UK printed hangers
are the perfect way to implement your company into your shop. Not many professional retail stores will have bespoke hangers custom made with their logo on, however going the extra mile and having them coloured to match will certainly make you stand out from the crowd. No matter what your brand is, provide us with a logo and the correct colours and we will do the rest. Printed,
branded hangers
can be extremely effective in making a long lasting impression on your customers. These are highly visible and can be an extremely powerful advertising and marketing tool for years.
Leave a lasting impression on your customers with bespoke hangers

You may ask why? Well, high end retailers display their garments on these hangers. These wooden coat hangers or plastic hangers are then supplied to the consumer who keeps this form of advertising in their wardrobe. So if they ever need to be reminded of where to purchase additional garments then that hanger will certainly help up selling at a later date. Even if certain high-end retailers do not supply the clothes hangers surely from a customer point of view when you visit a retail store and you see garments merchandised on beautiful printed coat hangers will leave a lasting impression and it may influence buying patterns.

These display hangers will leave a lasting message you will not be disappointed! With a huge range of styles and colours to choose from to compliment your brand identity, printed clothes hangers are an effective way to showcase your product.


Examples of our custom coat hangers
The following images are of some of our favourite
bespoke hangers
we've created. These unique shop display fittings are some of our favourite creations carried out for our customer's and their bespoke hanger project requirements.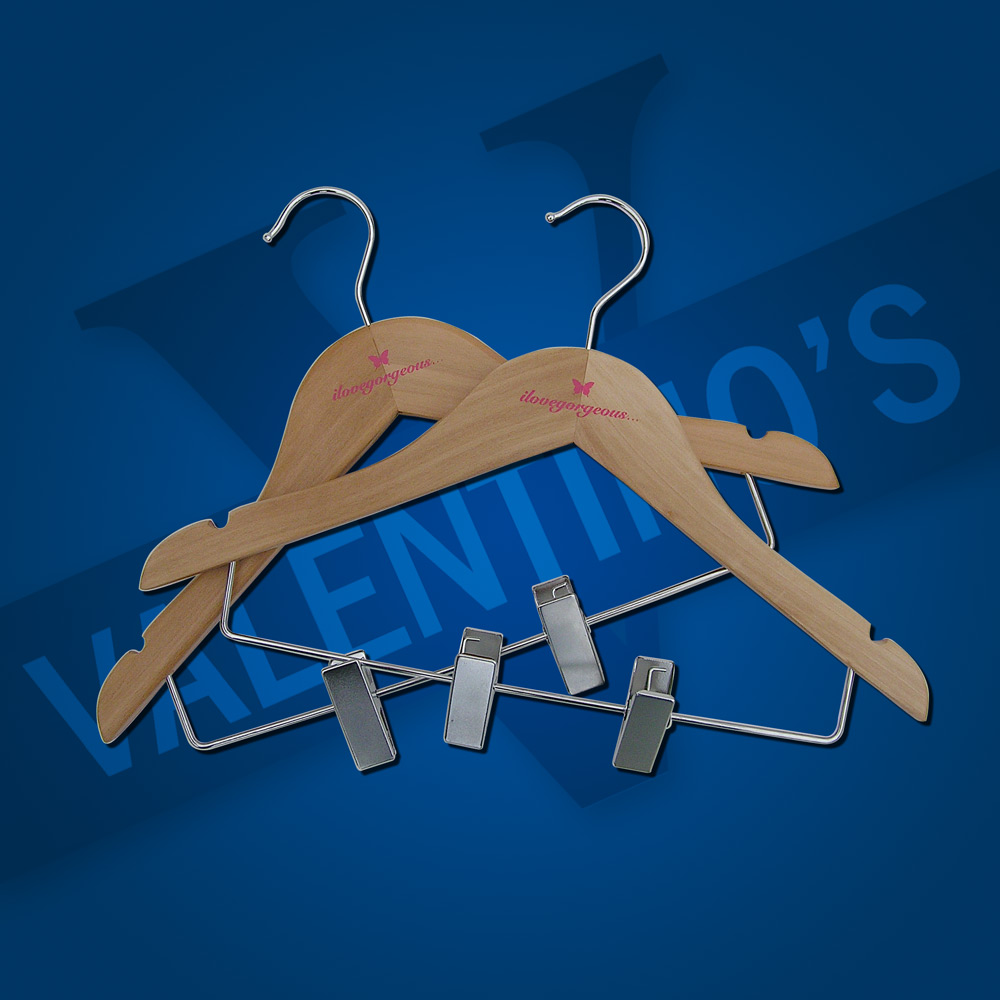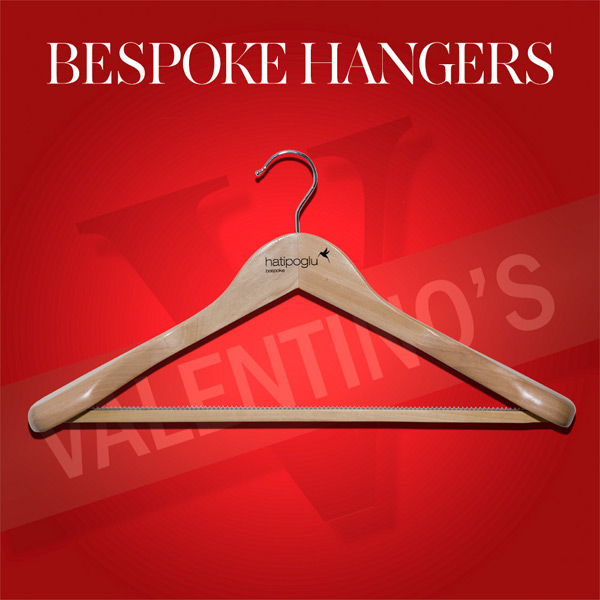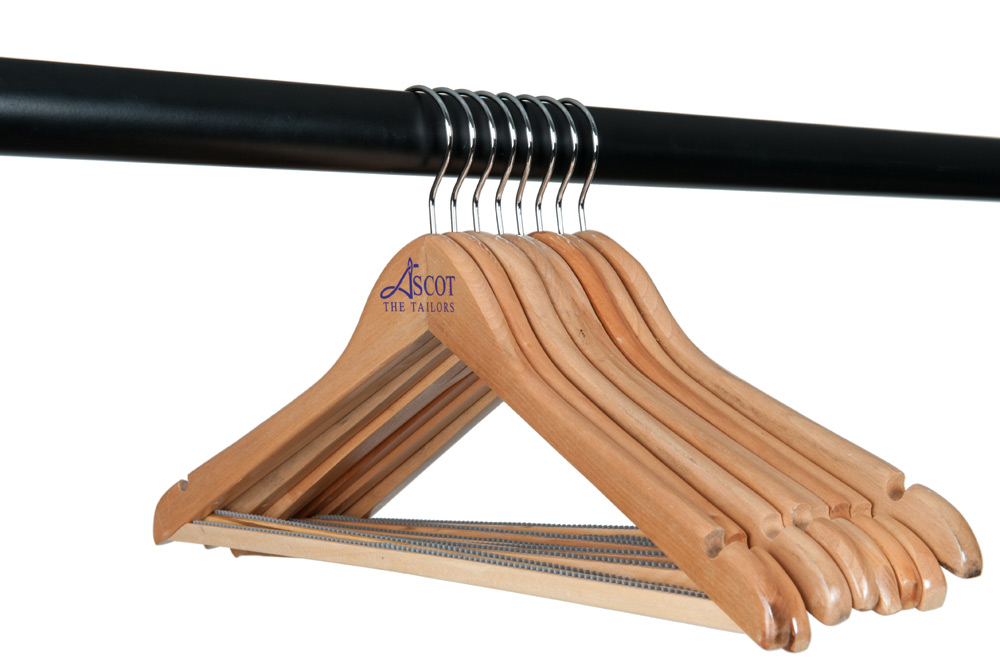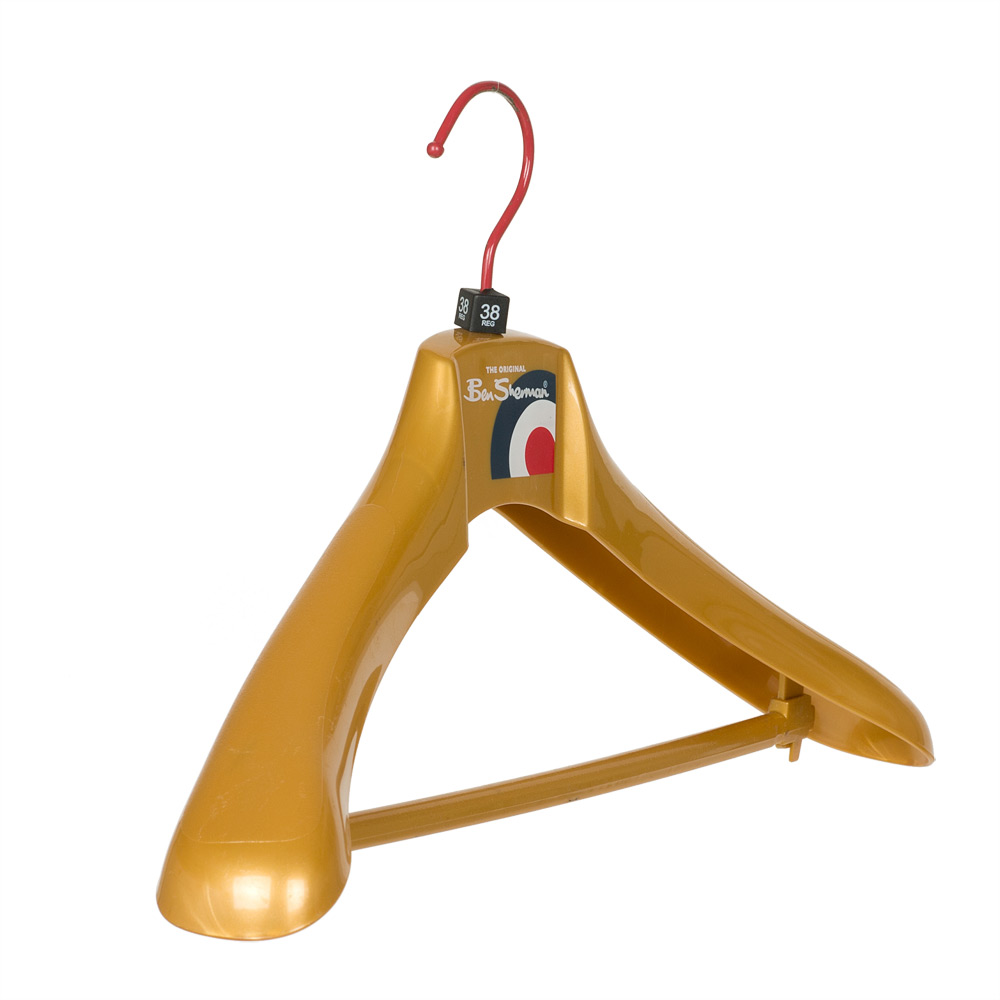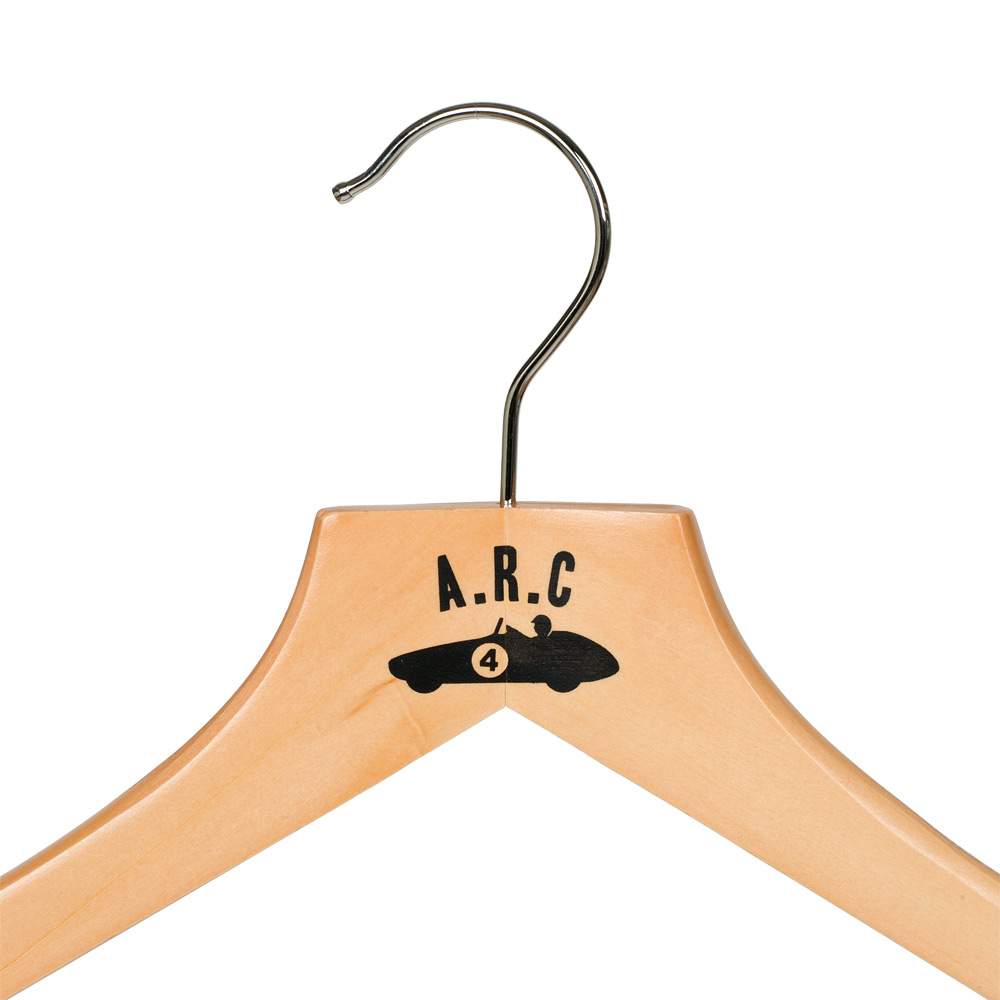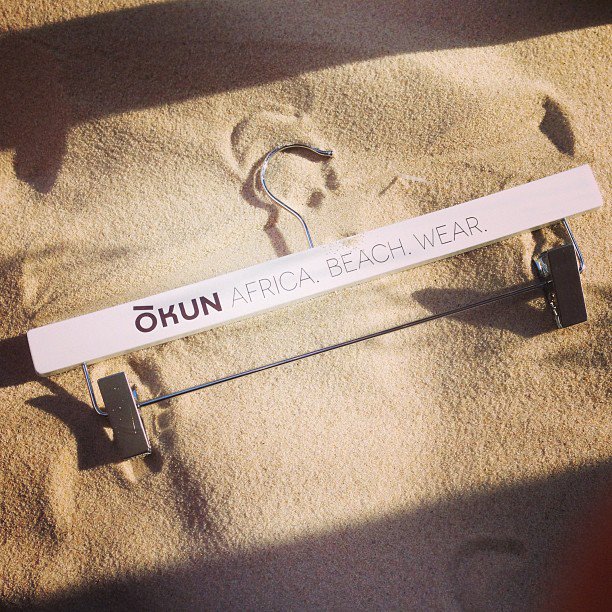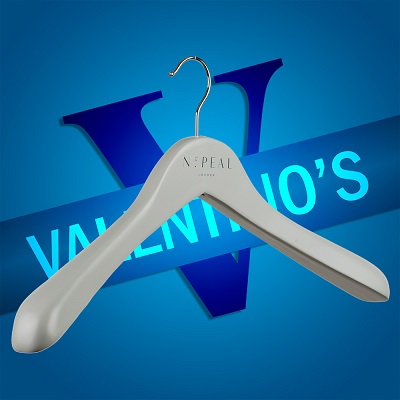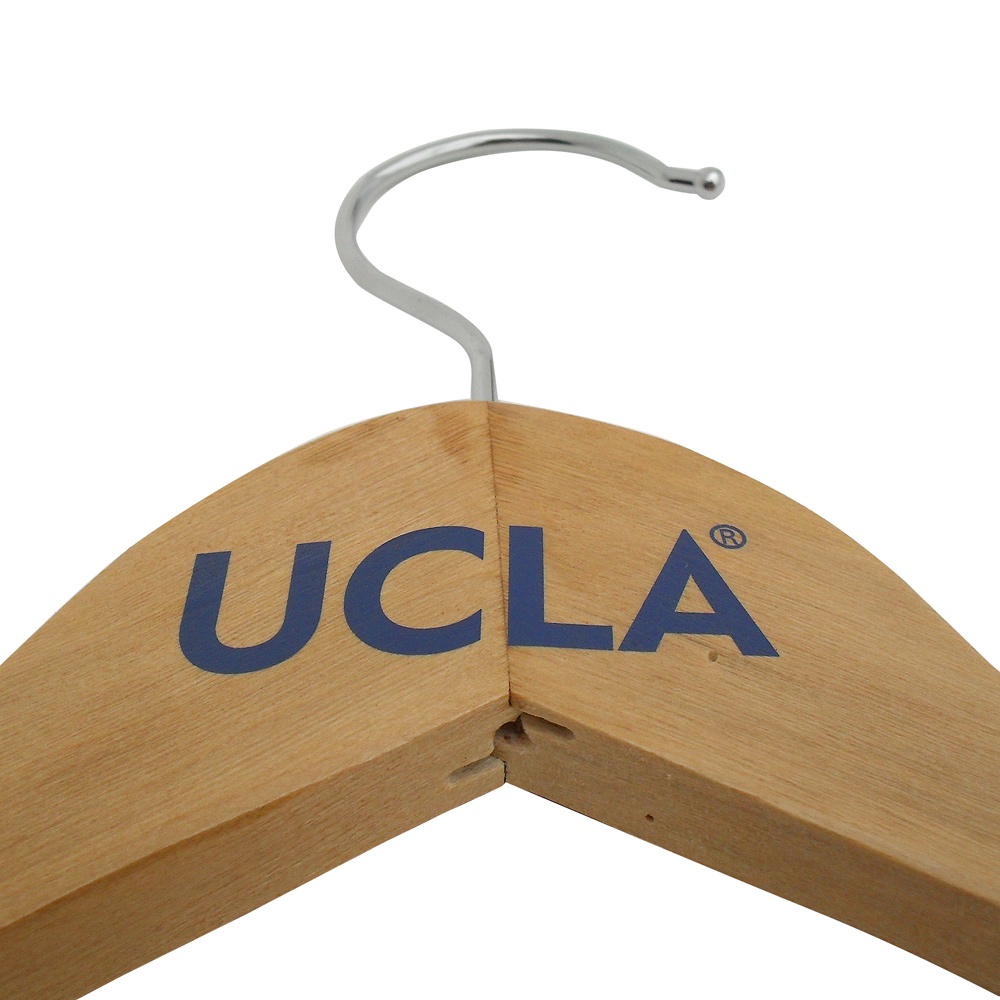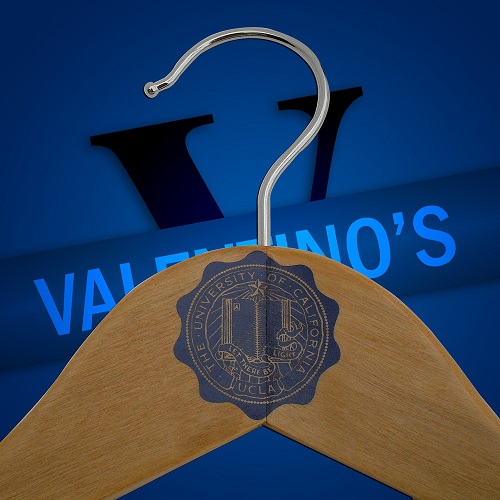 Guidelines on printed hangers and the required artwork
When thinking about the colour on your bespoke hanger, bear in mind the colour of your logo. You want there to be a good contrast. Most company brands already have this sorted, however if you only have one colour in the logo for example, yellow, it wouldn't be ideal to put a yellow logo on a white, or natural wooden hanger. On a black hanger, it would stand out significantly more. Sometimes simple black logos on wooden hangers look superior. For colour accuracy, please provide us with the pantone/cmyk colour codes or alternatively a sample of something with the correct colour.
High resolution personalised clothes hanger printing

In order to do your branded hangers, we will need your logo or text and font required to create your logo. If you can provide us with a high resolution file such as as .psd .ai .pdf or a jpeg image we can make the print to the highest quality. Providing us with a small low resolution logo can make it difficult. We will however do our best with what you can give us. If you are in the process of setting up and don't have a logo, we can help you with creating one. We can accept artwork in standard programs such as; Adobe Photoshop or Illustrator. If you already have electronic artwork then you can supply this to us by email. You must include copies of the fonts you require as well as the size of the branding itself e.g. height and width of the branding. We will also need to know the positioning of the logo on the display products, usually, this is centered.


No minimum order quantity when customising your coat hangers
Custom Hangers
turn around times are dependent on the quantity. The more notice and time you can give us the better, however, if you need them in a rush, call us and we will endeavor to meet your deadline. We have no minimum quantity order. Price is dependent on quantity like most things so the more printed hangers you require the cheaper the price compared with those looking for smaller quantities. As already mentioned there is no minimum quantity so unlike many companies who only print hangers of a certain volume we at Valentino's Displays are not like that, whether you need 100 wooden coat hangers printed or 1000 let us impress you with our UK branded hangers, custom made to your display requirements.
Personalised coathangers by vinyl stickers or laser? The alternative methods
So whether you are looking for ink printed hangers branded with your logo,
personalised hangers
by vinyl stickers or
laser engraved coat hangers
then let Valentino's brand your company. Raise awareness of your brand to your display products. We offer excellent prices on printing and extremely low minimum quantities with a fast turn around this allows you to maximise marketing opportunities. Our prices are fixed and there are no hidden additional charges with us!
Brand your company! Bespoke coat hanger branding at Valentino's Displays
Valentino's Displays has a wealth of experience and expertise with branded hangers for UK retail use and we will be happy to discuss your display requirements and the best display solutions we can offer. Our
case studies page
can be viewed where you can find a selection of projects we have carried out for our clients for their printed hanger requests. These images can be found on this page of the website. For those customers who are interested in branded hangers then
enquire now
. All we need to know is the hanger style you require, how many clothing hangers you require and a file of your logo with any specifications you may have and then we will get back to you with a quote asap. Our wooden coathangers and plastic hangers are branded in the UK by us, they are not printed outside of the UK using cheaper inks. Our hanger supplies UK will be branded to the highest of standards and you'll not be disappointed.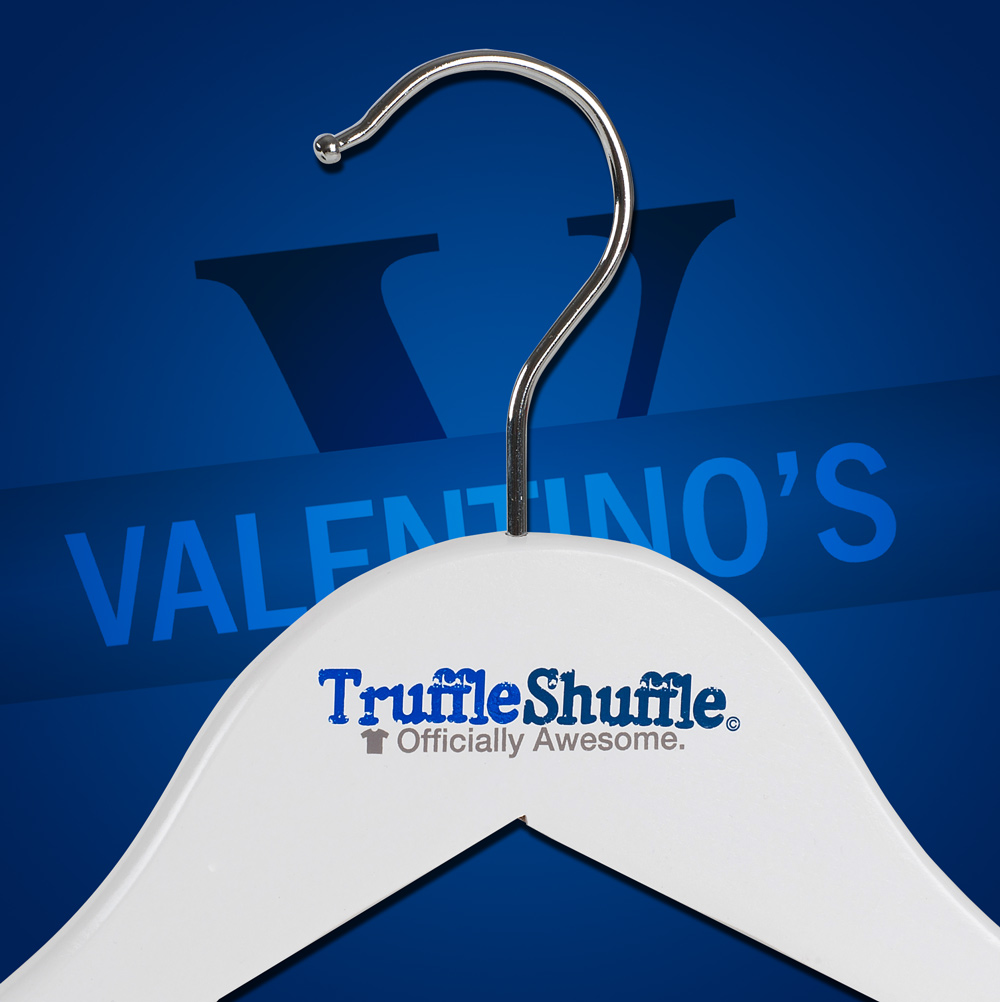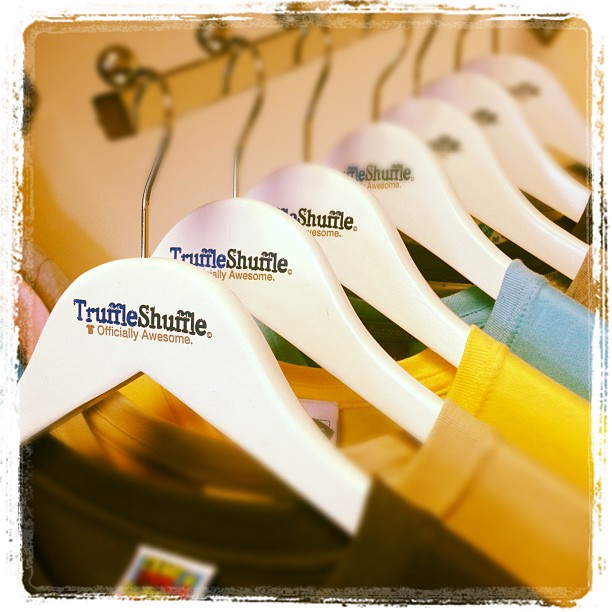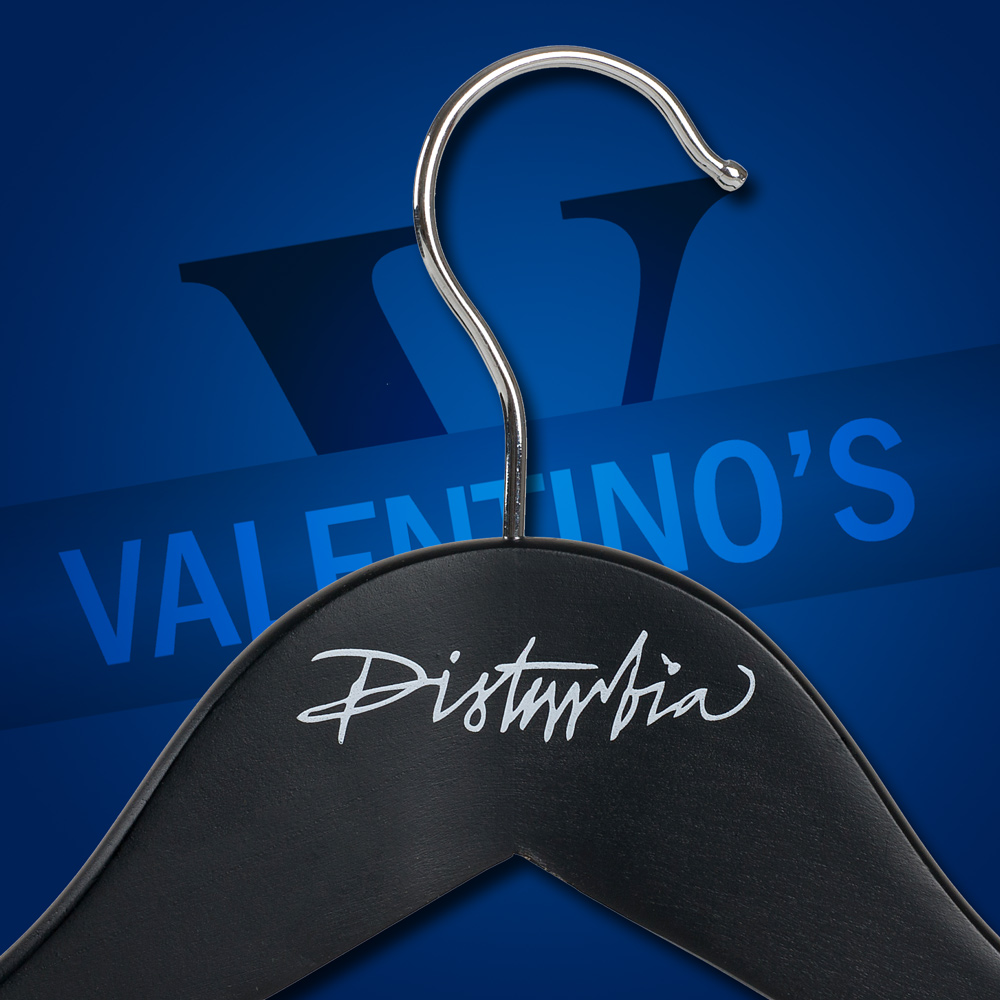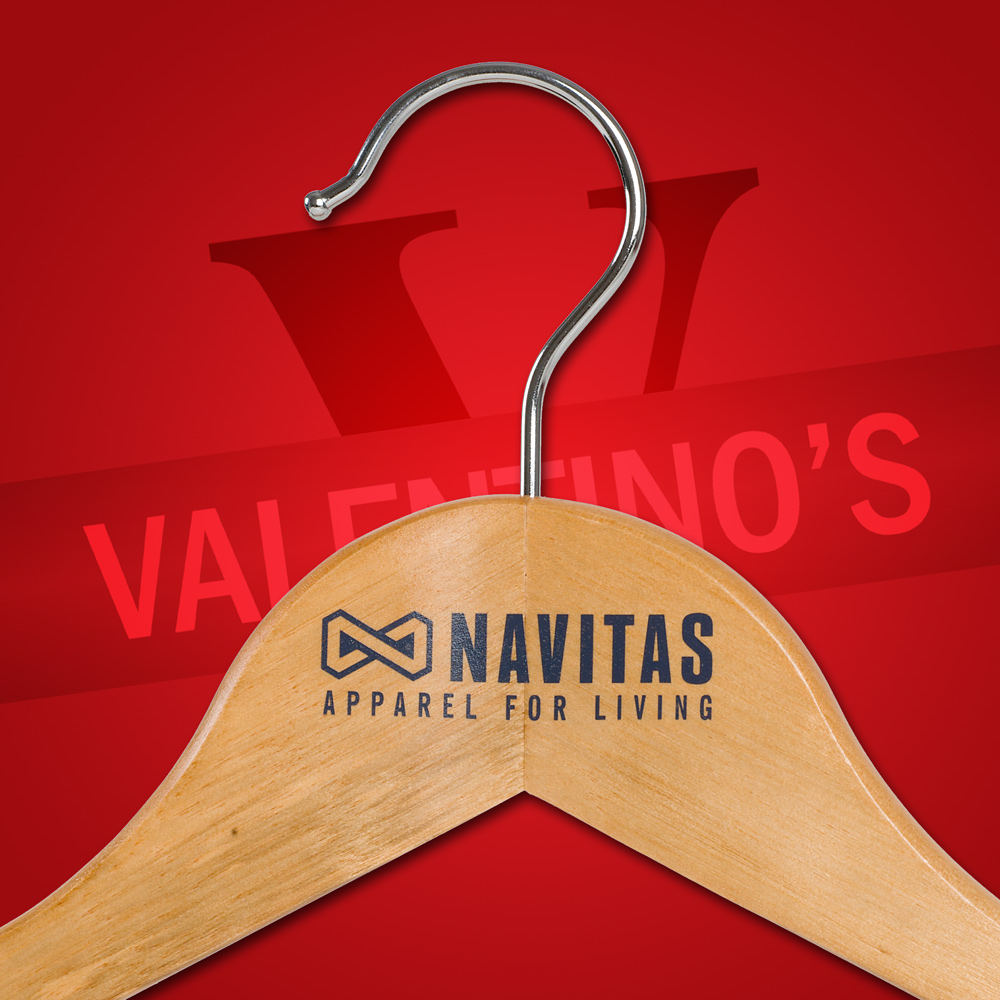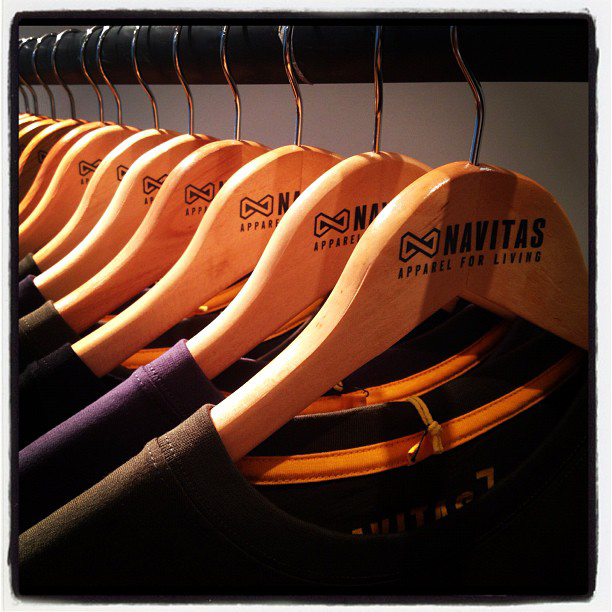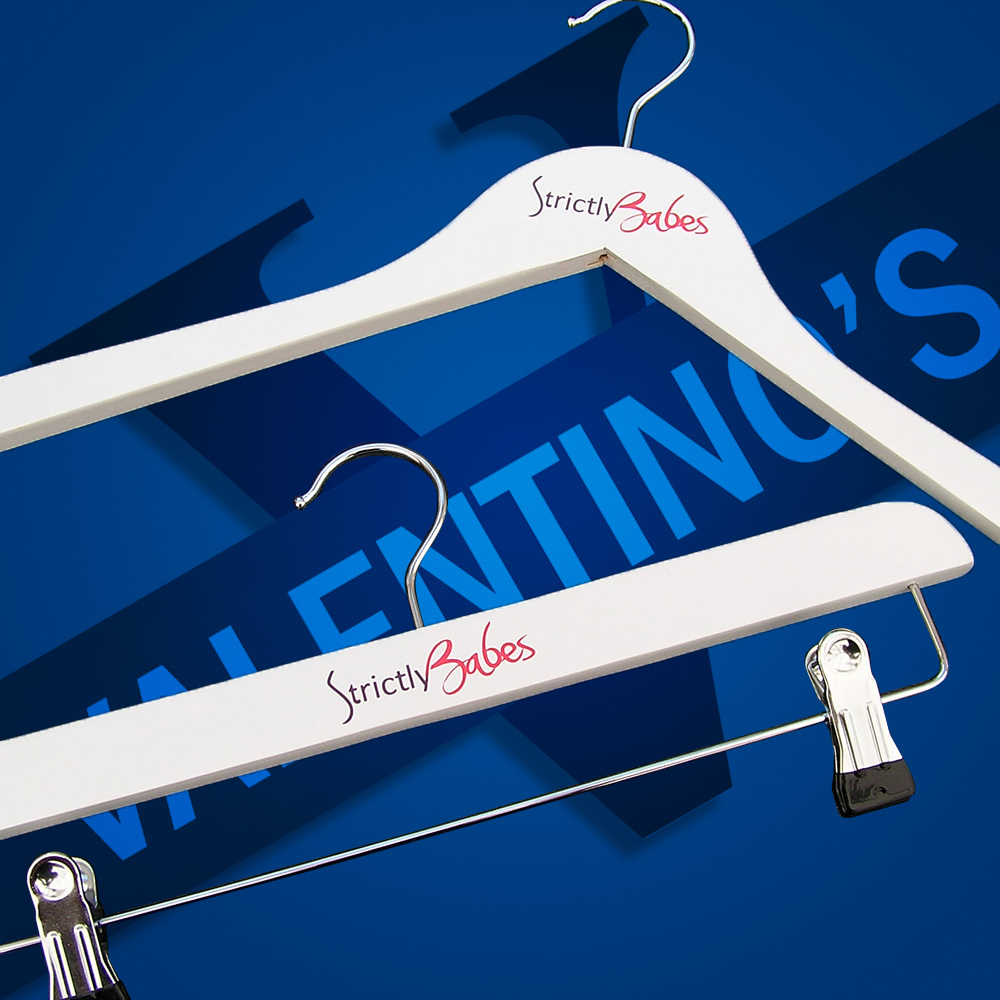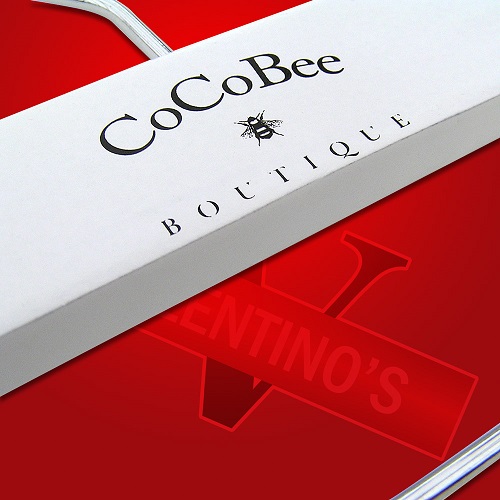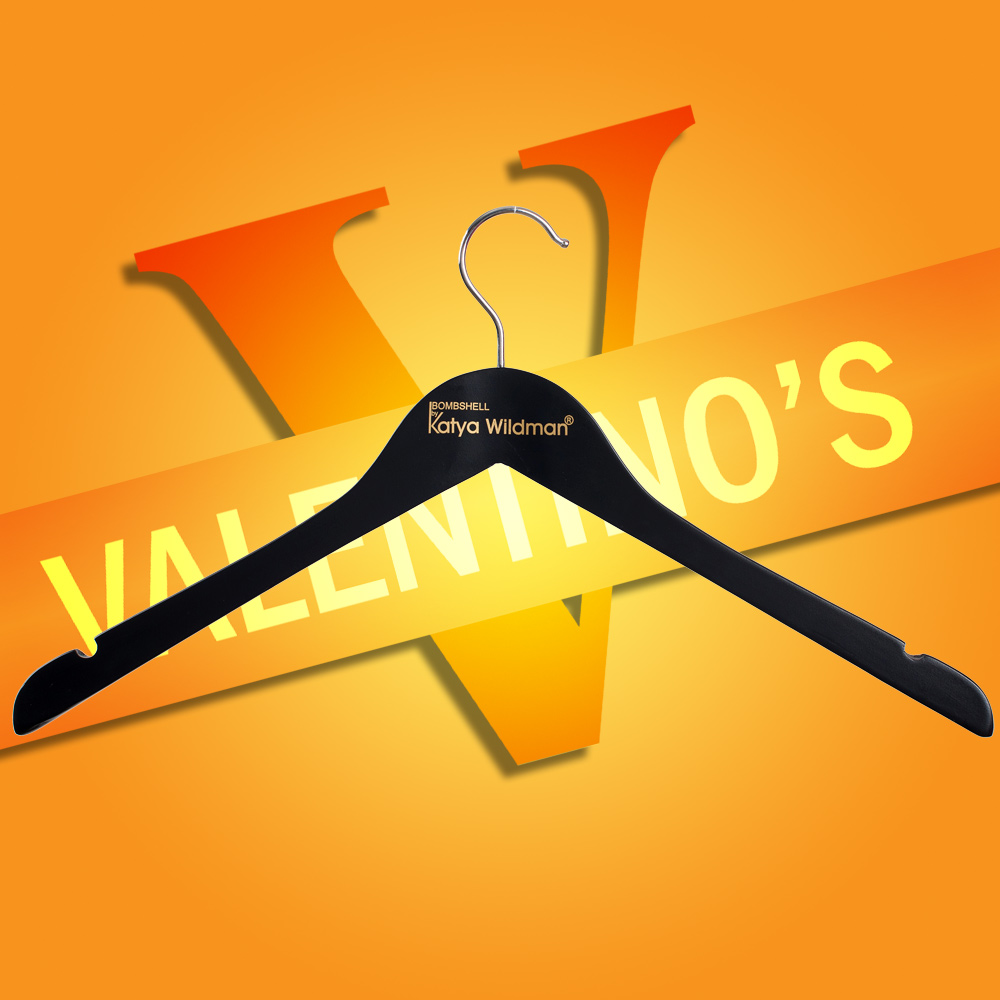 The benefits of having custom printed and laser engraved hangers in retail
1. Superb marketing tool
- reminds customers of your logo, brand & company. Will remind customers where they made a particular purchase for example if a suit was in your wardrobe on the original hanger and you needed a further purchase the hanger would be a great marketing tool so it potentially can up sell and your customers may go back to the store if their experience of the retail store was a good one.
2. Highly visible
- up to four colour hanger print. Will stand out from the crowd than normal unbranded retail hangers. Whether you are looking to use your company logo or brand Valentino's Displays can produce up to a four colour ink print on your wooden or plastic hangers. You may decide you would rather have your hangers laser engraved. This again is no problem and creates a different type of impression, the images on this page show our recent projects involving ink print and laser engraved coat hangers in a retail environment.
3. Lasting impression on customers
4. Effective way to visually merchandise your product
5. No minimum order quantity
- however, please check our website as some wooden coat hangers we sell by the box quantity so in some cases this can be 50 or 100 hangers.
6. Long lasting
- your hangers will last years, the standard of our work is second to none and you will be impressed with the service and quality of our hangers and printing.
7. Superb prices
- please send us your logo by email to;
info@valentinosdisplays.com
so we can quote you on bespoke custom personalised branded hangers or contact us on 01489 808007.
Testimonials from client's about our personalised hangers
Don't just take our opinion on our custom hangers, read what our customers say about the service;
"Dear Antonio, Thank you very much for the hangers - very pleased with the way they have come out, and the speed in which they arrived. I have done 'our test' of trying to pull the hook out of the hanger and rubbing the logo off – both with no success. Talk to you in a few months time. Kind regards" - Ascot The Tailors
" I love them !!! "- Hatipoglu Bespoke

"I have now received the hangers, thank you very much for getting them to me promptly. We will be taking them first thing tomorrow to John Lewis, Oxford Street in time for the press launch party of the new book written by our CEO Safia Minney. I am really happy with the service you have provided and will be happy to answer a questionnaire if you have one? Thank you very much " - People Tree

"Have picked up the hangers and we're really pleased with them, they look great, we were worried that the colour wouldn't be bold enough but you've got it just right. Thanks very much!" - Wild and Gorgeous

"Hi Antonio, We have received the hangers and we're very happy with the quality and the way they've come out. Excellent job, thank you and all the best". - Humdrum Apparel

It's not just customised hangers! Our additional shop fitting services
We can even change the colour of the hanger if you can't find the exact model online or you may prefer personalised coat hooks! If you can't find the exact model on our website or you don't believe the product exists, let us manufacture to your requirements! Look at our
additional services page
for further information on our bespoke services including powder coating coat hangers and bespoke shop floor mannequins. You are able to
contact us by email
or by calling us on; 01489 808007.
Contact us for personalised wooden hangers


We would be more than happy to supply client's details to any potential customer looking for printed hangers on the approval and acknowledgement of our existing clients to speak directly about the quality of our work and service received from us at Valentino's Displays. We will seek permission from our clients prior to passing out their contact details if you are in any doubt at all. Phone the #1 hanger suppliers UK about our retail hangers for sale - 01489 808007.