Personalised Coat Hangers by Valentino's Displays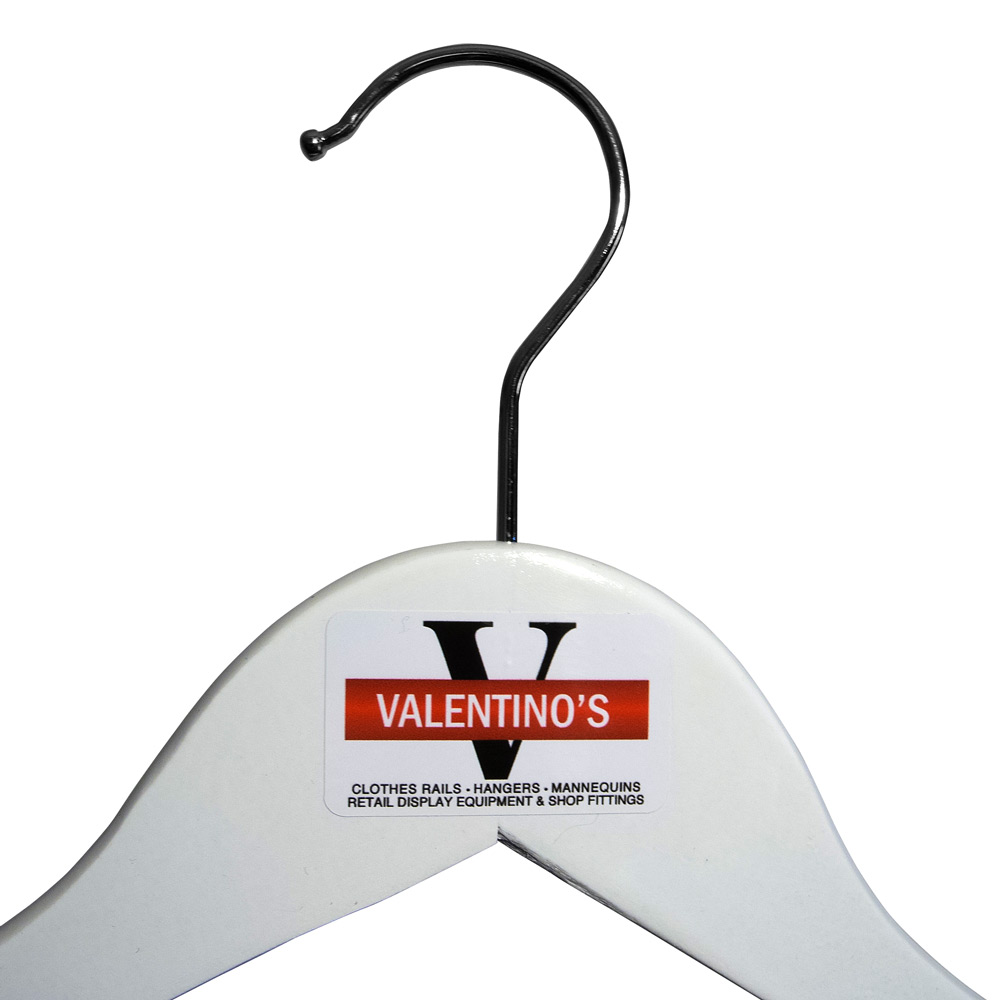 As leading suppliers of bespoke clothes hangers, Valentino's Displays are ready to help you pick the right product for your needs. As well as our popular laser etched hangers and our printed hangers, we also provide high quality vinyl stickers for a quick fix to your hanger branding needs.
Pros and cons of customised coat hangers with stickers
If you're wondering whether to order our
personalised printed hangers
or these sticker logo hangers, it's important to consider the pros and cons of each choice. Here are some of the issues you should be thinking about to help you come to the right decision:
Pros of sticker hangers
Cheaper:

Ordering custom wood hangers with personalised stickers is cheaper than both our laser engraved and personalised printed hangers.

Faster:

Because we aren't required to set up major 3D printing machinery for this type of customisation, we can often turn it around faster than engraved or printed personalised coat hangers.

Reusable:

The vinyl is non-marking and able to be removed after use, making this ideal for short term needs such as flash sales or promotions. After, you can simply remove the sticker and have good quality hangers to use ongoing.

Available in small runs:

If you only want to brand up a handful of hangers, we can supply these in much smaller quantities than our printed or engraved custom wood hangers.

Full colour available:

With our PAD printed branded wooden hangers, we are limited to printing in up to four colours. If you have a super colourful logo, vinyl stickers are unlimited in the use of colour and may be a better option for you.


Cons of sticker hangers
Less professional:

Our vinyl stickers look great and are very eye-catching but are simply not as professional looking as our personalised printed hangers. If you're shopping for bespoke clothes hangers for a luxury brand, other options may suit your image better.

Non-permanent:

As much as the ability to peel off the stickers might appeal in some situations, in others, it's as much of a drawback as anything. If you're looking to invest in custom wood hangers to last your business for some time, you will probably be happier with printed or engraved coat hangers.
Other options for bespoke clothes hangers
Sticker hangers may be a great choice for you if you're on a budget or need a rapid solution to your branding needs. However, you may be looking for something of a higher quality for your luxury business. In this case, we can provide custom coat hangers in two distinct styles:
PAD printed:

Our PAD printing process perfectly replicates your two-dimensional logo onto the three-dimensional surface of the hanger. Working from your own graphics and instructions, we'll print your choice of words, images, strapline and other features on one or both sides of the hanger, in colourfast ink guaranteed not to transfer to your garments.

Laser engraved:

Using precision laser technology, we can etch your logo or graphics into branded wooden hangers. Any logo can be engraved, or even a photographic image. These products really look amazing and are the ideal choice for luxury brands who are looking to make a statement. Our engraving process can be etched at varying depths, creating a unique finish to your hangers that is all about your brand.
We use top quality products for our branded wooden hangers, so you can be confident you're investing in something that will last and last. Whether you decide to go for the budget friendly sticker option, the eye-catching beauty of a printed hanger or the glorious uniqueness of our engraved hangers, you can shop for personalised hangers with confidence when you choose Valentino's Displays.


How to shop for personalised hangers
Hanger material:

Branded wooden hangers look amazing, but we supply plastic hangers which we can personalise too

Hanger shape:

Trouser, jacket, skirt or accessory? Child or adult sizes? We're happy to mix an order to ensure you get a good selection of hangers for all your apparel

Logo provision:

We'll need your image or logo in PDF format via email

Order quantity:

There's no minimum order for our hangers, but some are only sold by the box so do check before you order

Deadline:

We usually work on a two-week turnaround for our logo hangers, but for our vinyl sticker hangers this can be much shorter. If you have a tight deadline to meet, do talk to us and we'll see what we can do

For more help buying any of the personalised hangers for sale on our site, or for support in deciding what's right for you,
call our friendly team today
.