In a move that has shocked fashion onlookers, young girls are wearing make-up and promoting a new range of lingerie. Targeting girls as young as four years old! Combining lingerie and loungewear to form 'loungerie'. The Jours Après Lunes line for four to 12-year-olds features a range of panties, bras, camisoles, and T-shirts with lace edges, ribboned bow detailing, and nautical stripes.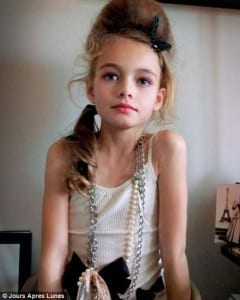 The shots feature young girls in poses and styling that seem far too premature for their ages. In one shot, a girl wears Jackie O-style sunglasses while lounging back on a pillow. Her modesty was protected by just panties and a cropped polka-dot tied top. Fashionista, which broke the story, says: 'What's disturbing about Jours Après Lunes is… that it's lingerie for people who probably shouldn't be old enough to even know what lingerie is.'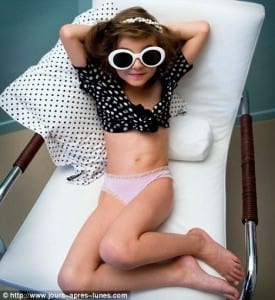 The label also includes baby ranges and older ages including teenagers. The styling also sees a grown model made to look like a child while the children are made to look like adults. Recently there has been a wide uproar as a lot of fashion magazines and fashion brands have come under fire for using children in their photoshoots.
We at Valentino's Displays believe this is too much at a young age. We understand that companies would argue that there need to be models for children's clothing but we feel that child mannequins would be a better place to sell garments for those ages. Four years old is far too young we just don't feel this sends out the right messages at all.
It's a delicate subject which I'm sure will create interesting views but what do you think, we would love to know your thoughts on this whether this is too much at such an age.
Would you let your 4-year-old model in fashion?