If you've mastered the art of producing fantastic shop floor displays that consistently draw your customers to the right products, increase their spending per visit, and bring repeat customers, then you're likely to be doing very well. But what about all those passers-by that never enter your store? This blog covers our top tips to help bring incremental customers from the outside in.
1. Use your shop window display to show off
Make sure you're showing off your best sellers in your shop window if your customers love it, it's likely some passers-by are missing out, perhaps not knowing you stock it. Grab their attention and you're sure to get them running into your store to have a closer look.
There're a whole host of ways to make specific products stand out in your window display. Glass Cubes are great to build some height into your display and they reflect light brilliantly, helping you highlight products with clever lighting.
2. Make use of any pavement space you have available
If your retail store is located in an area with plenty of pavement space outside, you might be able to take advantage of this area. There could be some local council legislation regarding which items can be placed where, so it's best to check with them before investing in any pavement signage, but once you've got their permission you could be on to a gold mine.
There's a wide range of signage suitable for grabbing attention from passers-by. A-boards are a great choice, especially if you're limited on space, whilst chalkboards allow you to let out your inner artist, do a good job and they will certainly stop passers-by in their tracks. 
3. Shout about your special offers
If you've got a particularly tempting special offer, make sure passers-by can't miss it. Use your window display and pavement signage to get the word out and you'll have shoppers beating your door down in no time.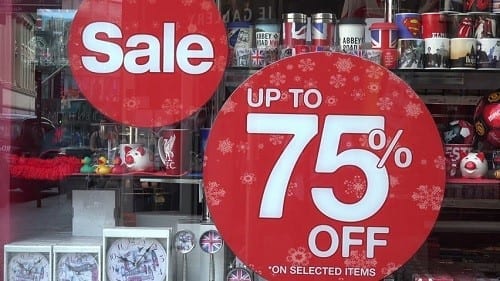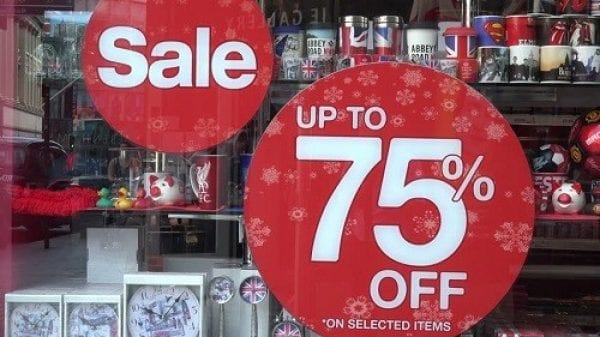 Source: Shutterstock.com
4. Have staff hand out leaflets during quieter periods
Rather than paying your staff to stand around during quieter periods, make the most of it and get them out there promoting your store. As with payment signage, you may need permission from your local council to distribute leaflets, so make sure you check with them before spending any money.
There are plenty of online companies that make it easy for you to create quality leaflets. Have a think about the core messages you want to pass on to potential customers, create something eye-catching, perhaps including a one-off amazing deal and get your staff stomping the streets, shouting about how great you are.
5. Make sure your shop floor and window displays complement each other
Your shop floor and window displays should be consistent if the inside of your store is a winter wonderland, ensure your window display is just as seasonal. It's not necessary to push the same products with the same priority, but the themes should be tied together. If it's going down well with your customers, it should attract some passers-by too.
Following these tips should lead to an increase in your store's footfall and if your shop floor display works its magic, you'll soon see your takings follow suit.
Valentino's Displays have everything you need to make the most of your external space. Visit the main website to buy what you need to turn passers-by into customers.
If you've been successful bringing in new customers we'd love to hear about it, share your tips and experiences in the comments section below.