Printed Coat Hangers for Ascot The Tailors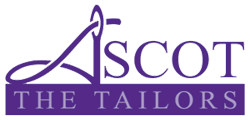 When we were asked to provide printed coat hangers to UK clothing company, Ascot the Tailors, we knew they had to be perfect. Here's our case study of what we were asked to do, and how the finished result turned out.

Our client
Ascot the Tailors are renowned for providing outstanding attire to both men and women in many locations around the world. With shops in London, Bristol, Stockholm and Australia, these British tailors are a cut above the rest. Offering a full bespoke tailoring service of the highest quality, this brand was looking for a high-quality supplier to help with their
shop displays
.
Our customer's goal
Ascot the Tailors came to us with a specific requirement; to create a number of high quality, robust,
branded wooden hangers
, designed to present their beautiful suits at their very best. They knew the branding, they knew the specifications, and they wanted to
buy personalised hangers
at an affordable price, without scrimping on quality.
Our approach
We knew that Ascot the Tailors wanted a great product, so we worked hard to produce a product that they could be proud of. We knew that not just any old
custom suit hanger
would do; these had to meet certain criteria and perform to the standard that their brand expected. We had to consider:
Style:

Because the company tailors for both men and women, these hangers needed to be both broad and wishbone styles, to suit the different clothes types.

Construction:

Suits and jackets can be heavy once hung, so it's important that every custom suit hanger we supplied was up to the job.

Design:

Our customer supplied their logo and specified a pantone colour that we would work from.

Printing:

Having a logo that rubbed off would be no good at all, so we used a technique called PAD printing to transfer the 2D logo onto the 3D personalised hanger in a permanent, high quality manner.

We got to work, printing up a large quantity of hangers for the client, taking care at every stage of the process to deliver on quality, on time and to their budget.
The end results

The finished hangers were stunning. Elegant, classy and built to last. Our customer was thrilled with the results, commenting as follows;

"Thank you very much for the hangers - very pleased with the way they have come out, and the speed in which they arrived. I have done 'our test' of trying to pull the hook out of the hanger and rubbing the logo off – both with no success. Talk to you in a few months' time."
We were personally delighted with how these turned out, and are looking forward to working on the next batch of branded wooden hangers for Ascot the Tailors in the future. We supply
printed coat hangers UK
wide to businesses of all shapes and sizes, so if you think your enterprise could benefit from our custom suit hanger products, just get in touch and we'll be pleased to help.