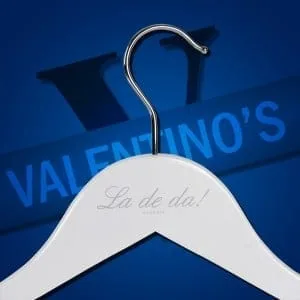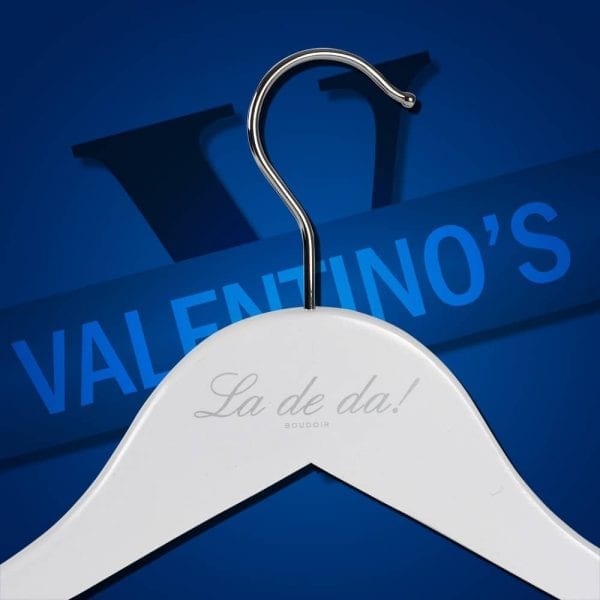 We've recently completed a project for La De Da Boudoir in Cheltenham. Valentino's Displays were contacted by La De Da who was looking for custom coat hangers for their clothing range. Their specification consisted of white clothes hangers with their corporate metal grey personalised onto the wooden hangers.
La de da living!
Our clients opened their shop La de da! Later awarded 'best shop' and they wanted to take it one step further. It was when sourcing all things lovely they discovered the concept of hand-stamped vintage cutlery, although the idea had been around for hundreds of years the concept was never bought to retail. Grasping the opportunity they've never looked back. It now boasts stockists worldwide.
At La De Da you'll be able to find unique and inspiring pieces for your home, affordable luxury gifts for your loved ones and more importantly lavish treats for you! La de da consists of a sister and husband team who have always dreamed of opening their own shop with beautiful gifts and furniture at great affordable prices.
We look forward to welcoming back La De Da and wish them all success in the future!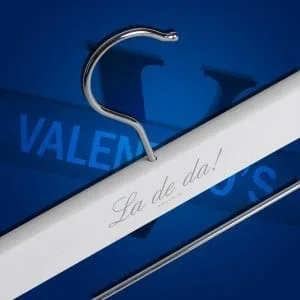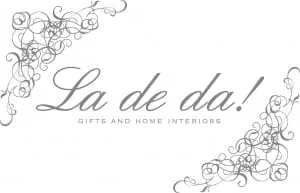 The Benefits Of Having Custom Printed & Laser Engraved Hangers In Retail
Superb Marketing Tool – reminds customers of your logo, brand & company.

Highly Visible – up to four colour hanger print. Will stand out from the crowd than normal unbranded retail hangers.

Lasting Impression On Customers
Effective Way To Visually Merchandise Your Product
No Minimum Order Quantity – however, please check our website as some hangers we sell by the box quantity so in some cases this can be 50 or 100 hangers.
Long-Lasting – your hangers will last years, the standard of our work is second to none and you will be impressed with the service and quality of our hangers and printing.
Superb Prices – please send us your logo by email to; info@valentinosdisplays.com so we can quote you on bespoke custom personalised branded hangers or contact us on 01489 808007.