Valentino's Displays specialise in branded plastic hangers and branded wooden hangers. We mentioned previously about a project for a customer we were working on in regards to branded hangers. You can now view our latest blog post for further information on getting your hangers branded by us. Our customer has now received her printed hangers, exported outside of the United Kingdom.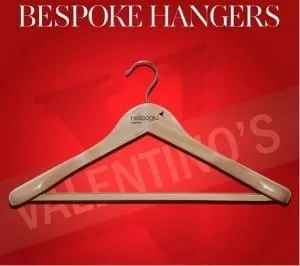 The customer was delighted with these wooden hangers that she intends to place further orders in the autumn and winter months for other garments she has for sale. If you are interested in our branded hangers and would like to know more information in regards to a printed logo on your hanger then be sure to contact us.
Branded wooden coat hangers are designed nowadays as a marketing tool to high-end retailers to provide a hanger with a garment sale.
These hangers printed with a company logo not only look extremely professional they also sway customers to not only come in the shop but once the garment is purchased that hanger will be a constant reminder of the company therefore constant advertising for that company and its clients. Something as small as a clothes hanger may be the difference to whether that clothing is sold or not.