Plenty of shoppers in Whiteley will know about the redevelopment of Whiteley Village Shopping Centre. There is a £100M scheme to bulldoze and rebuild a 38-acre site that includes Whiteley town centre.
Landowners British Land and the Universities Superannuation Scheme are working together under the name "The Whiteley Co-ownership". It is likely to include a 60-room business hotel, up to 80 homes, a remodelled shopping area, an expanded leisure centre and a library.
Whiteley straddles two local authorities. All the land involved is on the Winchester City Council side of the town, but residents of the Fareham borough side will also have a say.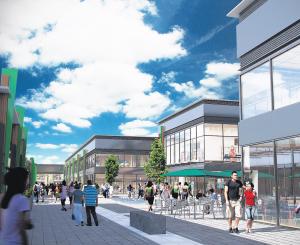 Artists impression of what Whiteley Village is set to look like.
We are sure there will be a need for displays stands and shop fittings that include clothes rails and hangers.
We would like to hear your thoughts and opinions on the redevelopment of Whiteley. Is this a good idea or was Whiteley village fine the way it was? This is a hot topic around the parts of Southampton in Hampshire and is certain to split people's opinions. Was this really necessary? Could the money have been spent elsewhere especially in the hard economic times we are all in?