We supplied our client with children's retail wooden branded hangers in the run-up to Christmas 2011. Printed hangersin silver ink on a white child's hangers was our client's specification. The children's hangers had to be 34cm wide in a combination of two styles; a child jacket hanger and achild's wooden peg hanger.
The children's peg hangers our client required needed to bepowder coatedin white to match the jacket hanger that was in white as a standard colour. These were then left to dry and then printed with our client's logo.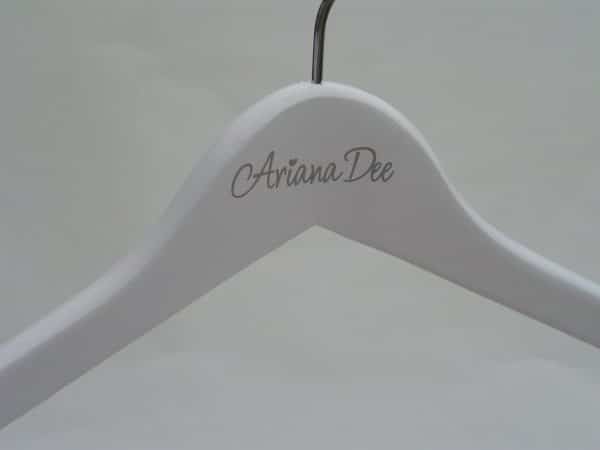 Above is an image was taken of one of the pieces. We were able to turn around this project in a matter of days due to the size of the order being fairly small to what we are used to.
UK Branded hangers, printed with a logo are the perfect way to implement your company into your shop. Not many professional retail stores will have bespoke hangers custom made with their logo on, however going the extra mile and having them coloured to match will certainly make you stand out from the crowd. No matter what your brand is, provide us with a logo and the correct colours and we will do the rest.
Printed, branded hangers can be extremely effective in making a long-lasting impression on your customers. These are highly visible and can be a powerful advertising and marketing tool for years.
High-end retailers display their garments on these hangers, these hangers are then supplied to the consumer who keeps this form of advertising in their wardrobe so if they ever need to be reminded of where to purchase additional garments then that hanger will certainly help up-selling at a later date. These hangers will leave a lasting message you will not be disappointed!
With a huge range of styles and colours to choose from and of course your brand identity, printed clothes hangers are an effective way to display your product.
If you are interested in branded coat hangers UK for retail then contact us alternatively email us at; info@valentinosdisplays.com where will be happy to help with custom hangers with a personalised logo. Try us today!