Hangers for clothing and fashion accessories are available in a variety of styles, materials, and sizes. Standard adult hangers are usually around 16 – 17 inches wide, while children's hangers are only 10 to 14 inches. Specialty hangers for trousers and skirts are also available and are usually around 14 – 16 inches wide. Economical plastic, durable metal, and classic wood clothes hangers may all be suitable to use in a retail environment. Before choosing clothes hangers to use in your store, learn about the more popular types of hangers. These are highlighted below;
Plastic Clothes Hangers – Commercial plastic hangers are generally available in white, black or clear plastic. The quality will run from lightweight, almost flimsy, plastic to the super heavyweight unbreakable hangers. Plastic hangers work well as an all-purpose hanger. These are generally used for shirts, blouses, and dresses.
Wire Clothes Hangers
Metal, or wire, hangers will also vary in quality. The most inexpensive, lightweight metal clothes hangers are the type you may receive with your dry cleaning. Heavier metal hangers won't bend or sag and are great for stores with a more contemporary look. Because wire can rust, some wire clothing hangers are coated in coloured vinyl to protect the fabric. These are what are supplied to dry cleaners and what you are likely to receive when collecting your suit.
Wooden Clothes Hangers – Classic wooden hangers are available in a number of finishes including a natural wood finish. Wooden hanger styles include coat hangers with or without wooden centre bars, clamp hangers, trouser hangers, broadly shaped suit hangers available in all shapes, sizes, and colours. There is so much you can do with wooden clothes hangers nowadays including branding your company logo by having custom printed coat hangers.
Ideal for eye-catching displays! Valentino's Displays has achieved excellent results for its clients with our printed wooden clothes hangers service. These hangers have become important marketing tools for our customers in retaining their client base.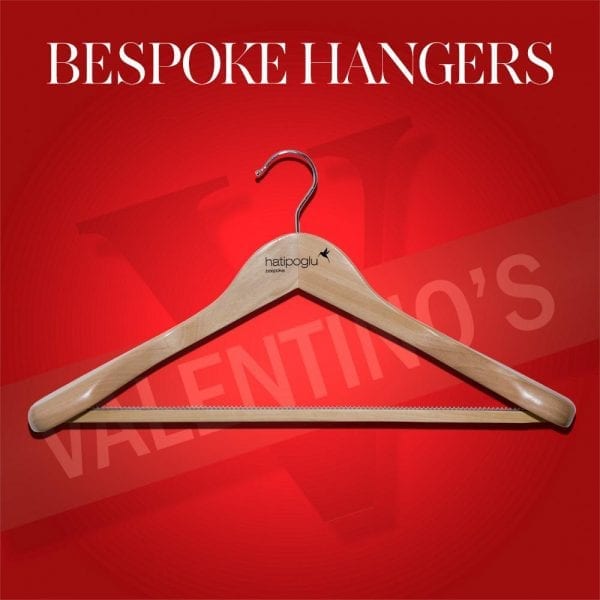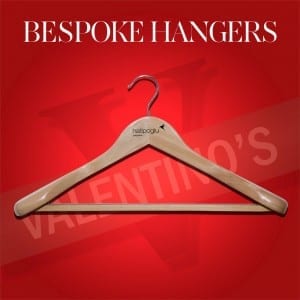 Padded Clothes Hangers – Not only does a cloth-covered hanger protect delicate garments, but the padded hanger is also usually covered with satin and therefore a pretty way to display lingerie or other clothing. The padding helps to prevent slipping and assists in preserving the shape of the garment.
Size Marking & Hanger Accessories – Hanger markers, cardboard tubes, and other hanger accessories help retailers keep their merchandise neat and tidy while creating an appealing display.
Valentino's Displays is sure to find the right hangers and shop fittings for your display requirements just let us know your thoughts and the garments you intend to use them on and we will give you our opinions on the most suitable clothing hanger.