At Valentino's Displays, we have been watching closely the disgusting scenes in various cities across the UK.

How can we help?
We were discussing what we could do to help the victims of the riots and in particular the businesses that have been destroyed. We are not close enough to be able to go and lend a hand in the cleanup operation, so because of this, we are offering a discount to any business that has been damaged in the riots.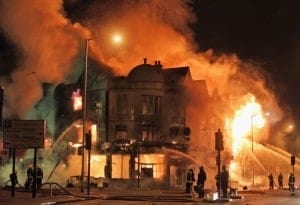 15% discount to businesses affected in the UK riots
We are offering a 15% discount across all of our products to any business that has been affected by the horrific acts of violence and criminal damage. You will also get free delivery with any order over a net value of £100.00. We would love to offer you larger discounts but our business model is to stay competitive all year round and therefore already offering our customer great prices on all shop fittings.
Valentino's Displays is determined to help businesses affected by the riots to get back on their feet and start trading again. We are proud to be British and want to show that mindless violence and looting is not what our country is about! Therefore we are willing to reduce our slim profit margins further to help out.
So how do you get the discount. Simply give us a call. Tell us what products you need, and a photo of the damage to your business. We will then do everything we can to assist you, and of course, give you a discount code for our website.
Get in touch with us
Whether you are in London, Manchester, Bristol, Birmingham or any of the other areas that have seen rioting and looting, we want to help you. To get in touch call us on 01489 808007 or email us info@valentinosdisplays.com. Even if we do not sell what you need, we may be able to assist in sourcing it so, feel free to give us a call and speak to us. We have many complimentary services at our disposal, so we could really help you.