Whether your retail unit is small and dark, large and airy or somewhere in between, it's important to make the most of the space you have available. Our shopfitting tricks will help make even the smallest, darkest space appealing and welcoming to your customers by utilising the space you have available to you.
1. Don't overcrowd your space with furniture
Less is definitely more when it comes to furnishing your space. It's easy to get carried away with shop fittings, wanting your customers to have a place to sit and wait, but your store will feel much more welcoming to customers if you have clear walkways and easy routes to products for browsing.
2. Clever use of mirrors gives the impression your space is bigger
This links nicely with tip number 3, mirrors will help reflect natural light around your store. They'll also create the illusion of a bigger space making even a small area feel accessible and welcoming.
If you're a clothes retailer it's likely you'll be used to displaying mirrors in your store, but this trick is suitable for any retail space.
Make sure you keep your mirrors clean though, streaks can spoil the illusion.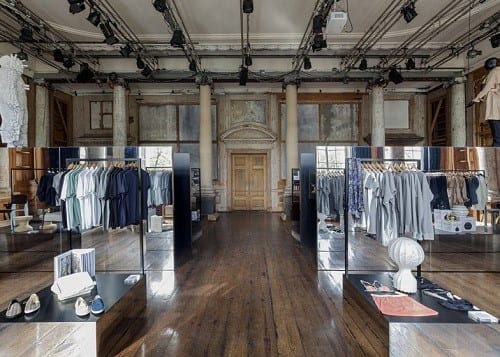 Source: Dezeen
3. Use light and colour to create the illusion of space
It's possible to use light and colour to help make the most of the space you have to play with. Take advantage of any natural light you have and complement this with artificial lighting to ensure brightness throughout.
If you're limited on natural light use bright colours to maximise it, dark colours may be your preference but can lead to your store feeling like a confined space that customers can't wait to escape.
4. Make sure your store is as neat and tidy at the end of the day as it was at the beginning
Clutter takes up space, even if it's not actually taking up space it feels like it is. Clean lines, space under your shop clothes rails and clear walkways all contribute to the feeling of space.
Have a plan for the shop to be checked regularly so you can ensure your last customer has the same impression of your store as the first.
5. Reach for the stars
Your shop floor area may be small, but by making use of the height of your store you can free up vital floor space. It's advisable not to display stock at a height unreachable to the average person, but the space above is perfect for signage and promotions. If you can't fit a shop dummy comfortably onto the floor it's worth considering using the higher wall space.
If you're a clothing retailer showcasing your stock on shop mannequins is really important, so, baring tip 1 in mind, if you don't have the floor space, look at how you can utilise your wall or ceiling space.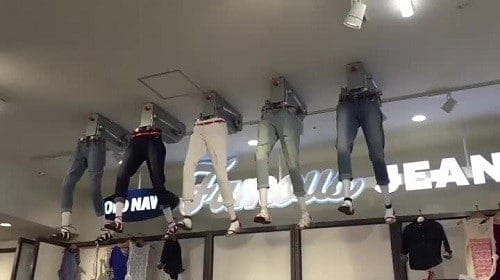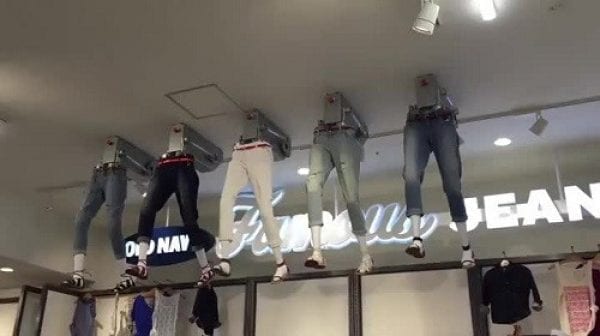 Source: justpo.st
Valentino's Displays are the shopfitting shop, providing a wide range of shopfitting supplies available for delivery in the UK. Visit our website to see for yourself.
How have you used your shop fittings to make the most of your floor space? If you've any tricks of your own we'd love to hear, let us know in the comments section below.