Visual merchandising is all about catching your customer's attention, bringing them into your store, encouraging them to look at products they may not otherwise have noticed or realised they wanted, creating an atmosphere that encourages the customer to browse, and of course, maximising your sales.
If you have a blank canvas it can be difficult to know where to start, equally if you have a mature business it can be difficult to decide how and where to integrate new stock. We've researched the defining visual merchandising techniques and pulled together our top tips on visual merchandising.
1. Be timely
Timing is everything, and visual merchandising is no different. Out-of-date displays will leave your customer disillusioned, after all, how can they expect the most up-to-date products if your Valentine's theme is still in place at Easter?
Update your displays regularly, and use national holidays to guide your main displays, but make sure you keep your secondary displays current as well. If you've got new stock, show it off, if you need to make space remove older displays starting with product ranges that are well established.
There's a whole host of products available to make keeping your display current easy, tailors dummies and shop mannequins are perfect, with a quick clothing change immediately refreshing your display.
Props such as paper carrier bags are also really easy to change and use again in a different display.
2. Use lighting
Lighting can be used successfully both inside your store and in your shop window displays to encourage customers to focus on the items you want to draw the most attention to.
If you've created an eye-catching window display, but the item you really want to push is melting into the background, use lighting to pick it out.
Display cubes can be a strong tool when using lighting to pick up on individual products, use the reflections from the display cube to really make the most of your illumination.
3. Think about the customer's impulses
Most of the customers stepping into your store have an idea of what they want, but successful visual merchandising will direct them to the products they didn't know they wanted.
Group products that go together, the customer may be coming in to buy a new dress, but if your visual merchandising brings the matching handbag and shoes to their attention you stand to increase their spend.
It's likely your dresses will need to be displayed on a shop clothes rail, make use of any space you have close to the rails to display the perfect shoes and handbag to accompany the dress.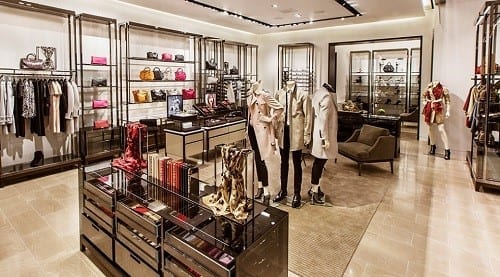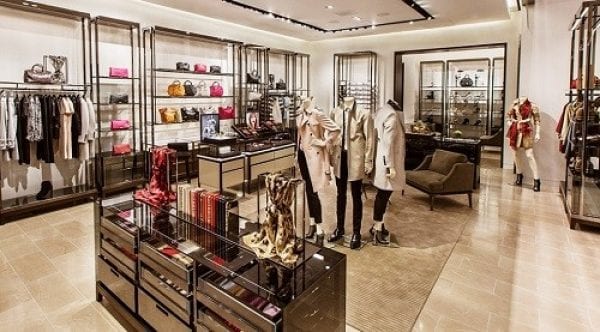 Source: Miami Design District
4. Think about inside and outside
Make sure you're focusing on both bringing the customer into your store and getting the most out of them whilst they're inside.
Use your window display to grab attention, and highlight you're most sought-after products, the items you know your customers will love.
Use your internal displays to upsell, and bring the customer's attention to items they may not otherwise have taken an interest in.
5. Keep the whole store tidy
Eye-catching displays can do a lot, but the layout of your store and how easy it is for customers to browse are just as important.
Make sure your customers aren't becoming frustrated by products falling over or off hangers, and do regular checks of your displays to ensure they finish the day looking as great as they started.
Clothing falling onto the floor, rails breaking and products being put back in the wrong place are common problems. A heavy-duty clothes rail could help alleviate this.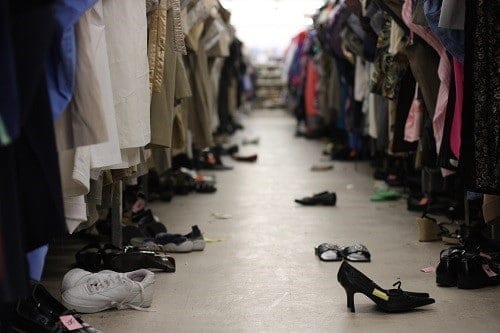 Source: Flickr
Valentino's offers a huge variety of shop fittings to help you create beautiful, engaging visual merchandising, visit our website to see for yourself.
How do you use visual merchandising in your store? We'd love to hear your visual merchandising tips. Let us know in the comments section below.