Are you making the most of your point of purchase (POP) display? Often overlooked in merchandising, this is a great area to add value not only to your store merchandising but to your store sales.
Ranging from informative displays to gift cards for purchase to products for sale, POP displays are an effective way to communicate messages to your customers, ring in additional sales, and highlight products you want to be noticed.
A few pointers to help enhance your POP area include:
1. Use a variety of levels to attract customers to your POP display area. Pedestal stands are a great way to add height while also using the surface area of your checkout space to showcase a product. Be creative in using display products to showcase merchandise.
2. Make your displays approachable and easy to access through touching. While not every product should be left for customers to freely reach, most should be accessible to touch at your POP area. High-priced items can be locked away for security purchases, but in general, you want your customers to be able to reach and grab and touch the items in this merchandising area. As they are waiting to be checked out, they just may reach for one more thing they want to add to their purchase – which is, of course, the goal. This is something Valentino's tries to do even though this is an online site we try to make it wherever we can to give our customers the experience as if they are in front of the product eg multiple images, content, and video footage.
3. Avoid cluttering your checkout space. It is tempting to use every little inch to showcase a product or informative details about your business, but you want to make sure the overall appearance of this area is visually appealing while easy to shop, as well.
4. Take advantage of the opportunity to "speak" to your customers here. Through the use of displays, you can communicate messages to your customers. Let them know about an upcoming sale, special event, your loyalty program, and more. Clean, simple signage is very effective in speaking to your customers. No need to make things too complicated here – keep it simple (but large enough in an easy-to-read font that it's not a challenge to read).
5. Promote your gift cards at your POP area. Selling gift cards not only bring additional revenue to your store but potentially new customers. You should definitely have a sign letting your customers know you sell gift cards at our POP area rather than them having to ask. This also is a reminder to customers who didn't even have gift cards on their minds that they may need one.
Re-merchandise periodically
Remember that your POP area should be re-merchandised periodically to bring new visual appeal to your customers. While space may be limited, even changing the colour of your signage can be effective. Don't neglect this important area and in return, your sales will.
Just think with little changes it doesn't take much for a customer to walk in and make a purchase they didn't go in the store for. Impulse buying will happen!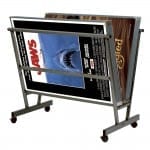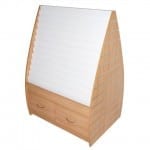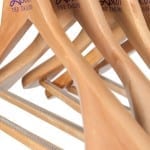 (Images of Valentino's products which include; floor poster browser, card display unit with slatwall panels and hangers we had branded for our client).