Customised Wooden Hangers for DEUS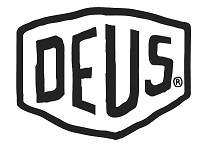 When Deus customs wanted a better way to display their range of unique motorbike influenced apparel, they knew not just any old hanger would do. They searched for the best, and came across Valentino's Displays. Here's how we worked on their project.
Our client

Deus Ex Machina are a motorcycle customisation company who are leading the way in boosted bikes, custom kits and race café's. With flagship stores in Sydney, Bali, Tokyo, Los Angeles and Milan, the company also supply branded apparel for riders and motorbike lovers, including leathers, t-shirts, hats and more.
Our customer's goal

Deus customs were looking for hard wearing personalised hangers which would function to display all of their apparel range. They wanted the hanger company to supply them printed up with a black logo, and, as often is the case, needed them done fast. They contacted Valentino's Displays with a brief, artwork and deadline, and we were delighted to oblige.
Our approach

To accommodate all of the apparel for this brand, we knew we needed more than one type of customized clothes hangers styles. We went for a combination of the classic wishbone hanger and the trouser hanger style, as these are both multi-functional and can be used to display a range of different clothing and accessories types.
The
customized clothes hangers
needed to be up to the job of displaying often weighty product, such as leather jackets and trousers. For this reason, it was imperative we went for a hard-wearing material and not flimsy plastic. We chose high quality natural wooden hangers.
Finally, the print; we used a PAD printing process to apply the corporate logo to the
printed hangers for Deus Customs
. The logo was a simple black, but that made it even more important to ensure the ink was completely fast and not able to transfer to any clothing or hands.
The end results

We love everything the Deus brand stands for, and think these hangers do a great job of reflecting their rugged, motorbike loving ethos. The logos are crisp, clean and completely colour safe, and our client was understandably delighted with the result.
For all types of
personalised hangers
, we are
the hanger company
of choice. We specialise in applying your logo to a range of natural wood, painted wood or plastic hangers, whether it's in one colour or many. If you think your brand could benefit from customised hangers, talk to our friendly team today and we'll be pleased to help.