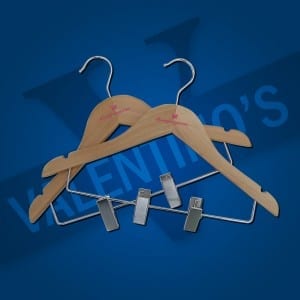 Valentino's Displays is delighted to shout about personalized baby hangers which have been custom branded with a printed logo for our client – ilovegorgeous. The images were from an approved sample we presented to our client before they proceeded with an order.
The baby hanger brief
Our client specified they were looking for various styles of natural wooden child's hangers to meet all their garment requirements. We were instructed that the corporate specification was for raw wood finished hangers. Non-shiny, in two clothing styles – a jacket hanger and a wishbone style with peg clips.
Custom baby coat hangers manufactured from scratch
When purchasing children's hangers you are usually restricted to what sizes there are available on the market. However on this occasion due to the number of hangers our client required we were able to manufacture into three width sizes in two different styles to meet their personalised hanger requirements. To manufacture the full quantity of hangers required it has taken us approximately four months to complete. It will take us a further two weeks to print the logo directly onto the wood surface across the entire stock.
About our client – ilovegorgeous
Our client ilovegorgeous sells individually designed clothes for babies and girls from 6 months old up to age 15. Pretty and classic dresses are inspired by unusual fabrics that move with the child; chiffon, silk, jersey, velvet and pretty prints. Timeless combinations and party dress a vintage appeal with an exclusive following. Their range extends from beautifully finished and flattering party dresses, pretty skirts with matching tops, fine knit cardigans and jumpers as well as gorgeous everyday dresses. Their bridesmaid's range features divine silk and silk chiffon dresses that are uniquely designed to offer something a little different.
They have a shop in Notting Hill Gate, London and are stocked by many wonderful boutiques and department stores across the UK, Europe, and the USA. ilovegorgeous was started in 2006 by friends Lucy Enfield and Sophie Worthington. Both mothers with a background in fashion realised that the only way to dress their children as they really liked was to do it themselves. Six months after their first collection was launched they could count Kate Moss, Claudia Schiffer, Stella Tennant, and Sam Taylor-Wood as their customers and Selfridges had opted for an exclusive. In December 2008 ilovegorgeous opened its first flagship shop in Ledbury Road, London. In February 2009 it launched its e-commerce site.
What artwork is required for branded childrens coat hangers?
The artwork was sent to us in Hi-Res format and perfect for branded hangers. The better the resolution of the image the better the print. Consequently the clearer your printed hangers will be. Therefore until we are totally satisfied with the artwork we receive we will not proceed with such an order. It's equally important for ourselves as well as our clients to meet all expectations.

About Valentino's Displays
We hope to work with ilovegorgeous again in the near distant future. I'm sure they are looking forward to receiving thousands of hangers from us in early May 2012.
We have more information available for those interested in custom-printed wood hangers. Take a look at our case studies on bespoke coat hangers with hundreds of clients who have tried Valentino's Displays for their bespoke hanger requirements.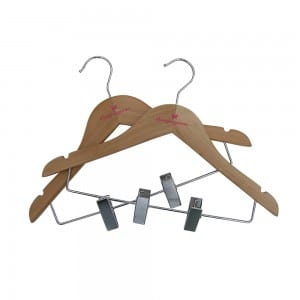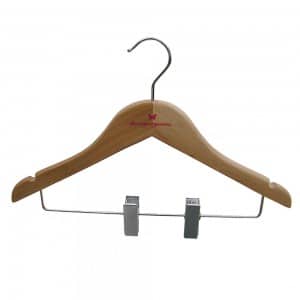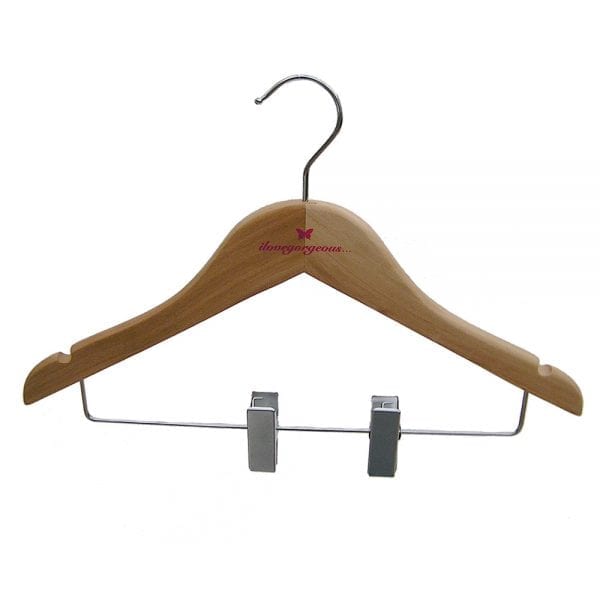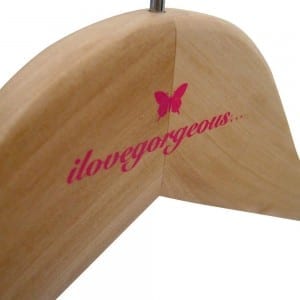 What do you think of the images?