It's likely it only feels like five minutes since you took down your Christmas display, but it's been a good few weeks and that means it's time to start thinking about your Valentine window display.
Tying your marketing promotions in with the widely-recognised holidays is a great way to drive business, whatever your business, but if you're a shop or restaurant with a prominent window display, you can really make the most of it with your Valentines display.
We've pulled together some of our top tips to help you.
1. Think about your goals
It's easy to get carried away with your Valentine's display, and if you're not careful you could end up spending a lot of money, and not getting anything in return. Outlining your goals before you start planning your window display will help ensure you get a return on your investment.
Think about any particular products you want to push and any promotions you want to run, then design your window display around these goals.
It's easy to display any promotions you decide upon in the window display using simple cable poster holders.
2. Pink and hearts go a long way at this time of year
Pink and hearts are traditional at this time of year, and it's what your customer will be looking for to let them know, at a moment's glance, that your window display is about Valentine's Day.
3. Link your display to your business
Pink and Hearts may be the link to the holiday, but you also need to focus on linking your window display to your business.
The options are endless, a holiday company may do a display of a loved-up couple on holiday; a gift shop may display the moment the perfect gift is given and received. Using shop mannequins can really bring these types of ideas to life.
Source: http://www.expd8.co.uk
4. Be creative
Valentine's windows displays are becoming bigger and bolder than ever before, with some of the big department stores really blowing a lot of money on their displays. But with a bit of creativity, a huge budget isn't necessary to have a hugely successful, professional, and eye-catching window display.
There are a lot of tools available to help you pull off a fantastic display, but using display plinths will really add a professional touch, and allow you to use your creative flair.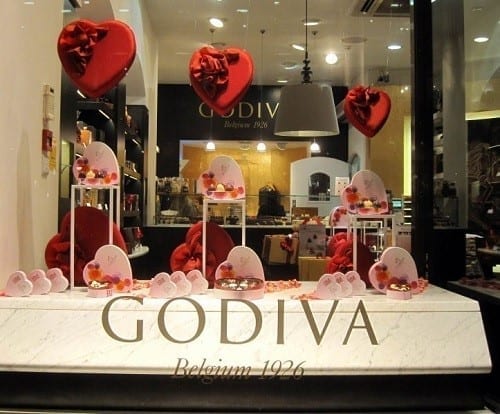 Source: http://blog.ispira.com
5. Remember the sentiments of Valentine's Day
Valentine's Day has a very clear theme, a celebration of love and letting people know they are loved, it's a great idea to pull this into your display.
6. If you've gone big on your display, prepare for big crowds
If you're expecting to be much busier than usual over Valentine's, it's a good idea to plan out how you're going to manage the extra customers. Looking into some queue management options could be wise.
7. Visit Valentino's Displays
At Valentino's Displays, we have a wide range of products to help you make the most of your Valentine's Day window display. Visit our website and see for yourself here.
Have you seen Valentine's Day Window Displays that's gone above and beyond? Let us know in the comments section below.