We all know that the big holidays provide a great opportunity to boost profits and Easter is no exception, it's a great time to gain more business. The kids are off school, the weathers getting nicer, and your customers have got a four day weekend to look forward to. It's the perfect combination, there'll be no shortage of people looking to spend their money.
To ensure you get your fair share of the Easter spending you'll need the very best Easter window display ideas to stand out from the crowd. In the spirit of seasonal enterprise, we've put together our top tips to help you get the most out of your Easter window displays.
1. Tie your display to your business
The cleverest Easter display ideas will link the Easter theme to your products and services, catching the customers eye and then drawing them in to take a closer look. Think eye-catching, maybe group some products together to make a spring hamper, or hang chicks around the store with messages drawing attention to your different products.
2. Remember, everybody loves a deal!
There's always a sale on somewhere, and that's because everyone loves feeling like they've got a good deal. Use your Easter window display to push relevant products, promote your buy one get one free offer, and make sure passers-by can't miss your Easter Specials.
3. Use props you can sell
Think Easter eggs, chicks, bunnies, wicker baskets, hot cross buns and daffodils. These are items we all associate with Easter, but they're also items you can sell in addition to your normal stock. Have some of these items close to the till and benefit from some impulse purchasing.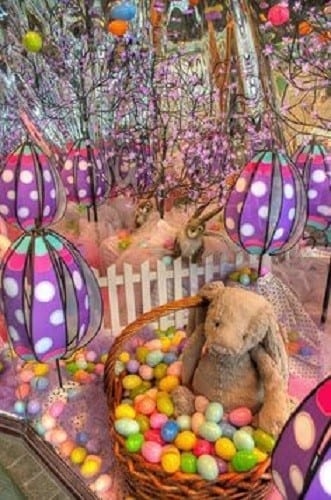 Source: Pinterest
4. Have a colour scheme
Easter and Spring go hand in hand, think pastel shades, English countryside, chocolate box cottages, flowers and the great outdoors. We've all been snuggled up inside all winter, and Easter is the first opportunity to enjoy the fresh air, inspire your customers with your colour scheme.
5. Get your customers involved
A lot of your customers will be shopping with children at this time of year, it's a great idea to keep them entertained so the adults can spend. Maybe buy some cheap chocolate eggs and hide them around your shop, your very own Easter egg hunt. Or fill a jar with mini eggs for customers to guess the amount in the jar, the winner takes the jar. Whatever you do, make sure you publicise it in your Easter window display.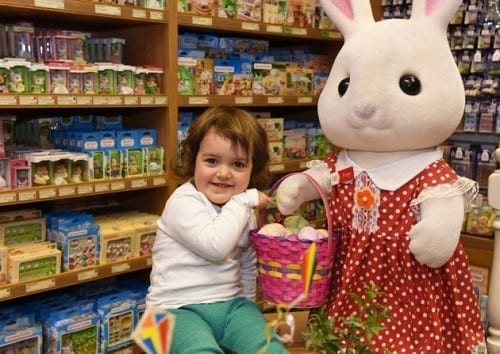 Source: Hackney Gazette.
6. Use different levels to catch the eye
Have higher level displays to catch the adult's eyes, with more children-friendly products at lower levels. Your customers can only take in so much at once, so make it as easy as possible for them to see what you've got to offer.
7. Posters are a great way to transform your store
Hanging posters is a cost-effective way to bring Easter into your store. Lots of bright colours and designs can be used to cover any uninspiring areas as well as draw customer's attention to any Easter deals you're running. See our previous blog for tips on getting the most out of your posters.
Valentino's Displays have everything you need to put together eye-catching Easter displays. Whilst your planning your display, visit our website for some more inspiration.
We'd love to hear about your Easter display ideas or any top tips you'd like to share. Comment below and let us know.