We've all seen some of the shoddier examples of poster campaigns; out of date, spelling mistakes, fonts that are unreadable, blue tacked to the wall, possibly even crumpled up on the floor.
There's an easy way to solve the tatty, blue tacked, crumpled on the floor issue, and that's to invest in some cheap poster frames. Once you've done that, you just need to make the most of them, we've come up with some top tips to help you out.
1. Have some clear objectives
Are you a bar promoting an upcoming night? A shop promoting a buy one get one free deal? Or a doctors surgery trying to reduce unnecessary appointments?
Whatever your business, whatever you're aiming to promote, it's important to start with a clear idea of what you want to achieve. This will allow you to keep your posters to the point, with a clear message that your customers can instantly understand.
2. Choose where to display your poster frames carefully
Your posters need to grab the customers attention whilst they have the opportunity to take in the content; there's a good reason you've read so many posters on a public toilet door.
If you're looking to reduce unnecessary appointments in your doctor's surgery, the waiting room is probably a better option than in the doctor's office.
If you're a bar that gets a queue out the door, place your poster frames in the queuing area, rather than next to a busy dance floor.
3. It's not always necessary to spend money on a professional designer
Your business and the purpose of your poster frames will determine whether a professionally designed poster is worthwhile.
If you're running a popular bar or club and promoting an upcoming night with a celebrity guest, the professional touch will certainly be expected; but if you're a small independent shop or local doctors surgery, it's acceptable to save some money and design a poster in house.
Whether you're designing your own poster or using a professional, it's important that it catches your customers eye, and remember your poster is representing your business.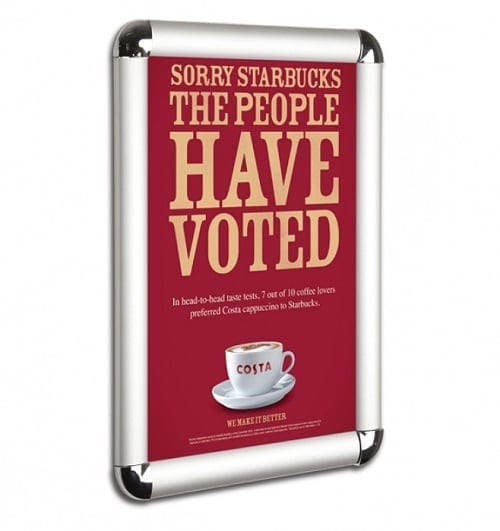 4. Think about your target audience
Use phrases and imagery that will appeal to your target customer. If you're promoting a nightclub event, slang and risqué imagery may be well received, but if you're a doctors surgery trying to reduce unnecessary appointments a polite, professional, informative approach is likely to be more appropriate.
5. Spell check!
Your poster is representing your company, you don't want to risk your customers laughing at you because of a silly typo.
Run your spell checker, and have some time away from your poster before proof-reading, once you've got some distance you'll find yourself in a better position to spot any typos. Another good idea is to get someone else to cast an eye over your poster before committing to a large print run.
6. Print a test poster
Print out one copy and test it out in your poster frame. Make sure your chosen font is still clear to read once it's in the frame.
It's also a good idea to check that the main points of the poster are clear. It needs to grab your customers attention in the first instance, and then clearly communicate your message.
If you find it's too small and increasing the font makes it feel too cramped, you may need to look at getting some large poster frames.
7. Keep your poster frames up to date
If you haven't got anything to promote at certain times of the year, it's better to remove old posters from your frames and display a company logo as a place holder. Leaving an out of date poster up could frustrate your customers, leading to them ignoring your future posters.
If you expect to change your posters regularly, you may find an easy to open frame beneficial, such as these snap frames, available in the UK.
Valentino's Displays have a wide range of cheap poster frames
If you're ready to take your poster campaigns to the next level, the first thing to do is buy cheap poster frames. There is a reason posters are one of the oldest promotional methods, and it's because they don't need to cost the earth to be successful.
Valentino's Displays offer a wide range of poster frames, cheap. Browse through the range and choose frames that will help you meet your poster campaign's objectives.
Have you got any top tips for poster campaigns?
If there's any tricks or tips you've been using to get the most out of your poster frames, we'd love to hear about them. Let us know in the comments section, and we'll see who's got the best top tip.