Valentino's Displays UKhave just finished a custom bespoke branded hanger requirement for our client. We were required to laser engrave 400 coat hangers of two hanger styles with 2 different logo's. One of which was the Nike Swoosh and the other the NSW collection logo for Nike.
If you want to see what the whitewash wooden hangers looked like before we started this display project then click here. You'll never believe the finished article is the same hangers!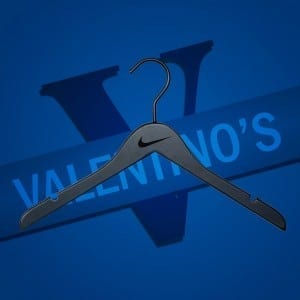 We began our first day by laser engraving the coathangers and branding them with the logo into the wood body of the whitewash coat hangers. This took us one full day of work to achieve this.
On the second day we needed to get the hangers ready for re-spraying, so all the hangers needed to be primed before this was possible.
Our client required the chrome hanger hooks to also be the same colour as the finished article however on the clip style hangers they wanted the chrome peg clips and bottom bar left as it was. Therefore there had to be masked up before spraying. Not spraying the trouser clips and chrome bar is wise and we would have suggested this also as the clips are adjustable in size so over the course of time they would have taken the paint off and it wouldn't have looked good at all!
The priming and painting process took us the second and third days on this project. Our client required these clothing hangers in a specific RAL colour which on this occasion was a dark matt grey powder coat finish. Delivery was made within 3 days (the deadline we needed to meet!)…now that's some going.
Anyone wanting to read more about this specific project can view our case study here or for those looking formore information oncustomized printed hangers with logoorlaser engraved clothes hangersyou can check these relevant website pages online.
What do you think of these bespoke personalised hangers?