Valentino's Displays UKhas finished off branding another company with their hanger display requirements. Custom printed hangers with a logo for Strictly Babes Boutique.
Strictly Babes is a Nigerian boutique specialising in women's maternity clothing. They contacted us for their hanger requirements where they required a total of 300 hangers in 2 different hanger styles – a top hanger designed for women's tops and vests etc as well as a trouser hanger for trousers and skirts.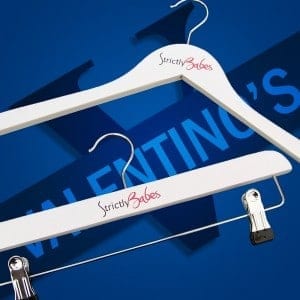 If you are interested in printed UK hangers then you can have a look at our youtube video showing us printing hangers for a previous client alternatively you can visit ourprinted hangerswebsite page for more information.
We have clients from all around that want us to brand hangersfor them for different reasons some give them away when expensive garments are purchased or some our kept on display in a retail store but they are all designed to be a powerful marketing tool for customers to remember that particular company and return in the future. Contact us today!