Valentino's Displays has finished branding UK retail coat hangers for Strictly Babes Boutique. Hot off the press, we've just completed bespoke, printed hangers with a two-colour ink logo.

Strictly Babes is a Nigerian boutique specialising in women's maternity clothing. They contacted us to help with their coat hanger requirements. The company ordered a total of 300 wooden coat hangers in multiple styles to cater to all their clothing requirements. A wishbone hanger for women's tops, as well as a peg hanger for trousers and skirts, were purchased.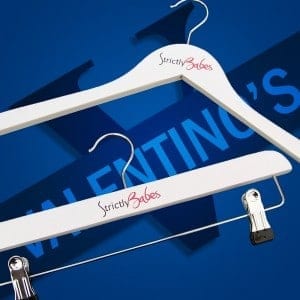 If you are interested in printed hangers manufactured in the UK then you may find our youtube videos useful alternatively you can visit our printed hangers page for more information.
We have clients from around the world that want us to brand hangers for them. Bought for so many reasons some of our clients give them away when expensive garments are purchased. Some are kept on display in a retail store. If used correctly a powerful marketing tool. A versatile, high-impact communication tool for all kinds of advertising and promotional needs. They can provide useful subliminal advertising which no customer can avoid seeing.
Traditionally, printed hangers were the preserve of the most successful high-street brands. That speaks for itself, but it's no longer true. Small and medium-sized outlets need this type of branding too. It's a hallmark of quality, creates that essential ambience, and sets you apart from the rest. Most importantly, you don't need the advertising budget for a high street brand. Boost your brand when you print your hangers. Contact Valentino's Displays today!