Valentino's Displays has recently printed UK coat hangers with a company logo for Foxhall London. An assortment of black wooden hangers with their corporate light grey logo printed onto the coat hanger.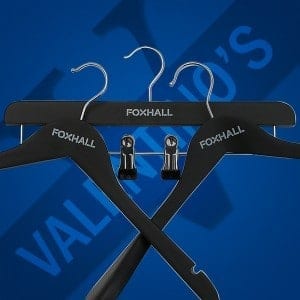 Foxhall London decided on three styles of black wooden hangers. So all their garments were catered for they decided on a wooden suit hanger, a top hanger and a trouser hanger with sliding peg clips. All of these wooden coat hangers can be seen and purchased directly from our website. A total of 250 hangers were ordered by our client and printed in a matter of days. In time for their company launch for the summer of 2012.
Valentino's can print up to 4 colours. There is no minimum order. We require your corporate logo in a hi-res format. We are the UK's #1 specialist supplier of retail displays, shop fittings and point of sale. With great knowledge and experience behind us, we have an extensive portfolio of printed coat hanger projects completed for clients worldwide.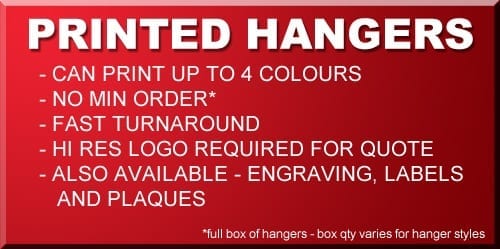 Therefore we welcome you to view our client testimonials online or take a look at our great selection of case studies on all things bespoke!

Consequently, if custom printed hangers with a logo are not for you how about something different? Laser engraved hangers, personalised labels and branded plaques are alternative ways of being seen! So we ask you to take a look at our printed hanger page which is accessible here. Let us brand your company. We will not disappoint you!