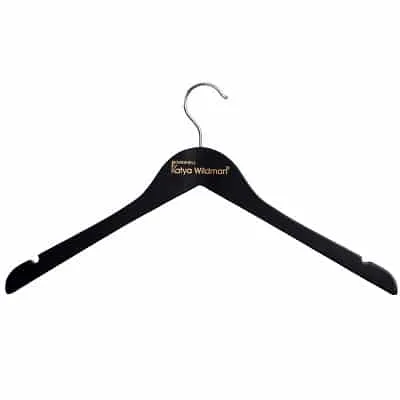 We regularly get asked whether we are able to produce customised clothes hangers with a gold print. So we felt we should show you some of our latest display work for Bombshell by Katya Wildman.
Printed coat hangers with a rich gold logo on our black wooden top hangers. A beautiful simple logo using a colour that we rarely get asked to print onto a dark hanger which naturally contrasts wonderfully to give an eye-catching visual merchandising hanger display. By having such a contrasting effect on the hanger you are more likely to draw in your customer base thus more likely to sell the product you are displaying. So that hanger will have achieved its objective.
Our bespoke hangers which are custom-made for your visual display requirements provide an excellent marketing tool that is highly visible that will make a long-lasting impression on your customers. Fully customised to your needs, whether you decide on printed coat hangers with a logo or engraved wooden hangers. These are effective ways to visually merchandise your product. It also makes your brand stand out from the crowd and gives a sense of professionalism.
There is no minimum order quantity when it comes to custom hangers together with superb prices and a long-lasting advertising tool why don't you try Valentino's Displays for your hanger requirements? Our website provides further case studies and testimonials of our work so you can be sure of the quality of our work.

Below are further images taken for this particular printed hanger case study.