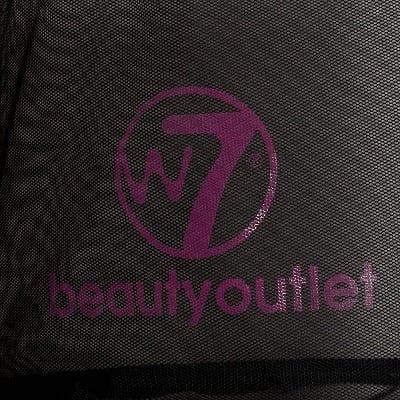 Valentinos Displays recently produced bespoke consumer shopping baskets. Printed UK net shopping baskets with our client's company logo branded on each side of the fabric basket. Below are some images taken of our bespoke printed shopping baskets.
About our client
W7 Beauty Outlet is the fastest-growing beauty retailer in the UK. Their vision is simple: to deliver the widest choice of beauty products available at the most competitive prices. Relevant, fast-moving, and an acute awareness of trends.
Beauty Outlet caters to all ages and our teams are trained in offering tailored advice for personal needs. They make a difference in how people look and feel and are committed to a 'wow' consumer experience.
The brief
Our client was looking for contemporary consumer baskets in various sizes for their Lincolnshire branch. Rather than traditional shop baskets like plastic shopping baskets or wire shopping baskets they opted for our UK manufactured strong, fishing-style net baskets with a comfortable plastic handle. These net shopping baskets are made by us by hand and sold individually with various price discounts based on quantity. There is no minimum order for printing however price varies based on the quantity. Like with most displays the more you need the cheaper they are per unit!

Easy to use, convenient to store, and a brilliant space saver these small baskets are perfect for delicate items as their fine mesh prevents products from falling through any gaps. In addition, these baskets are also highly practical for the end-user. The baskets collapse when they are not in use which makes them easy to store.
The outcome
We were able to print our client's logo on both sides of the round basket so the logo could be displayed from all angles. Some customers request one print per basket and some ask for two – it's a personal preference and sometimes depends on how striking your logo is.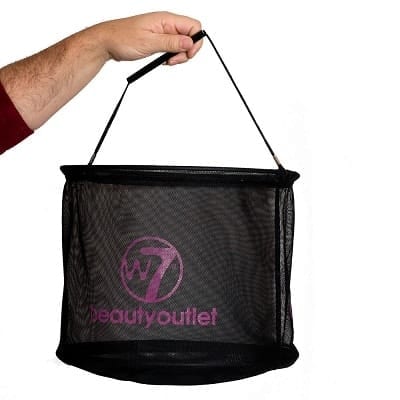 Contact Valentino's Displays
For those interested in branded retail displays then please visit us at www.valentinosdisplays.com for more information or you can call us on 01489 808007 alternatively by email to info@valentinosdisplays.com where a member of staff will only be delighted to help you.