If you are looking for printed hangers for company branding look no further. We at Valentino's Displays can print either a company logo, text, or both onto our wooden and plastic hangers. All we require is some form of a digital artwork and we'll organise the whole process.
Imagine your company logo on clothing hangers in your store. This is going to add a sense of real quality that your competition potentially does not have. You have continuous marketing on the hanger in the palm of your customers hands. Whether you give them away with the clothing you sell or keep them as a visual within the store that depends entirely on your business.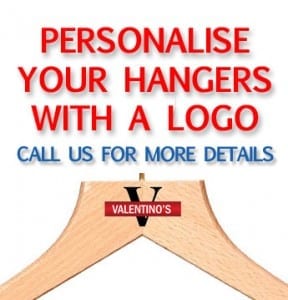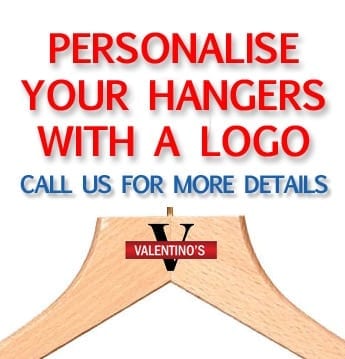 At Valentino's Displays, we have a NO MINIMUM order quantity. The cost of this process is usually around £65.00-£75.00 for the plate, setup, and film charge (one-off fee). Then depending on the artwork itself between 0.20-0.25p per hanger to print! The price per hanger will be dependant on the design of the artwork and colour/s. So, although there is no minimum order, the more you order, the cheaper the price will be per hanger.
We are currently in the process of producing these for a customer of which images will be added to our case studies page shortly to show you the quality of our work.
Below are a few of the most popular choices of the hanger to be branded by our customers.