Net Shopping Baskets - W7 Beauty Outlet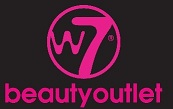 For many retailers, the plastic shopping bag is no more. Seen as environmentally irresponsible, ugly and unpleasant, many retailers are turning to net shopping baskets or other environmentally friendly bags to keep their customers happy. Of course, this also offers another opportunity for brand reinforcement and marketing excellence, so it was understandable when our client turned to us to supply printed net shopping baskets for their popular beauty outlet.
Our client

Based in Lincolnshire,
W7 Beauty Outlet
are a discount beauty shop selling make up, creams and other products to discerning, bargain hunting customers. Their brand is contemporary, young and fresh, and they specialise in selling popular manufacturer's products, such as Rimmel, L'Oréal, Smooch and Fake Bake at knock down prices.
Our customer's goal

W7 Beauty Outlet wanted to give their customers an easy way to pick up products from their store, and were looking for an alternative to the traditional plastic or wire shopping basket. They needed
net shopping baskets
in a range of sizes to suit different products and shoppers, and wanted to have them branded up with their logo too.
Our approach

We needed to supply net shopping bag products which would suit both shoppers picking up small cosmetic items, and those buying large items such as gift sets and appliances. Here's how we approached it:
Product:

We picked some large net shopping bags, some small mesh bags and some middle sized net shopping bag products. The range of sizes would accommodate all customer's needs, and all were available for personalisation too.
Printing:

We specialise in printed net shopping baskets, so it was no problem for us to apply the customer's logo to all the environmental friendly bags we were using. They supplied the logo and pantone colour, and we used a specialised printing process to apply them to the large, medium and small mesh bags.
Discount:

By combining the order for the small, medium and large net shopping bags into one, we were able to reduce the final price to the customer. With Valentino's Displays, the more you order, the less you pay, so the customer ended up with lots of cheap eco shopping bags which looked very high end and expensive!
We got everything ready and printed it up, well within our customer's deadline.
The end results

These
environmental friendly bags
really look the business, with an eye-catching logo that pops from the new beautifully. The client was super happy with the finished articles, and no doubt will be back to
buy shopping baskets
from us again in the future.
As well as our net bags, we have lots of other
reusable bags for sale
on our website too. Whether you want to buy shopping baskets with your logo applied, or reusable shopping bags for your customer to take away, we can supply it. Talk to our expert team today and they'll be happy to answer all your questions.