Bespoke clothes hangers make great merchandising displays for all your fashion wear. Standard coat hangers although cheaper do not create the same impact in a retail environment as a bespoke hanger.
The garments you are selling deserve a decent hanger to be displayed on to do it justice. You wouldn't have an expensive fashion garment on a cheap coat hanger as it will not create the impact you are looking for let alone may influence customer buying. If you are looking to display expensive clothes then we suggest clothes hangers which have style and ones that visually attract the buying audience.
From the images below you can see bespoke clothes hangers we have recently produced for our client Little Mistress at a recent trade show of theirs. Little Mistress purchased personalised hangers with their corporate logo as well as a clothing line branded on them.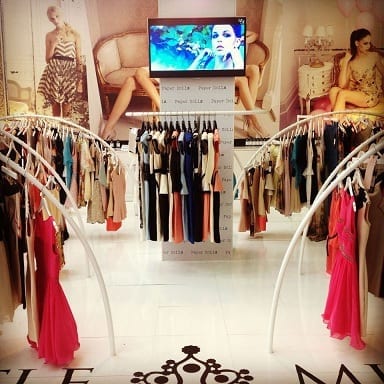 Bespoke coat hangers come in various forms. You may be looking for customized hangers with a logo? We can customise with personalising a company logo such as our hangers printed with logo service or our laser engraved hanger service. You may be looking for a bespoke piece altogether resprayed into a colour you cant even buy off the shelf! You like the shape of the hanger but not the finish – we can powder coat any hanger you see on our website.

For those customers who are interested in bespoke hangers visit Valentino's Displays and let us take the strain of your tight deadlines and produce some fantastic custom hangers with logo in no time at all. Whether it is for a small or large run of coat hangers we have no minimum order for branding although most of our coat hangers we sell by the box quantity so depending on the style of the hanger it could be anything from 25 to 100 hangers. Cost for branding is worked on per job as every bespoke display enquiry is different so it is priced up accordingly.
You can contact Valentino's Displays by emailing us at info@valentinosdisplays.com. We require some form of artwork so we can quote for you. Let Valentino's brand your displays you will not be disappointed!