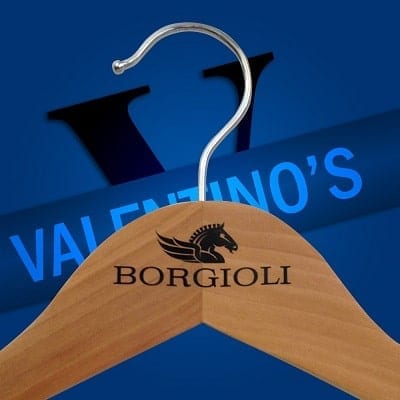 Valentino's has produced custom coat hangers printed for our client's menswear label Borgioli. Our client was looking for an expensive broad shaped hanger with their logo printed. These wooden hangers were to carry expensive tailored suits and needed to look the part. We feel there is nothing worse than trying to sell an expensive garment on a cheap hanger. It's all about impression and Borgioli chose clothes hangers for durability, longevity and certainly ones pleasing on the eye!
In terms of a custom project, this was a fairly simple project for us. We were required to print in black our client's logo of which was sent to us in PDF format. So, for a small number of hangers, we were able to turn such an order around within a few days from order confirmation. Below we have also provided a couple of images our client has sent to us of our printed coat hangers on display.
If you are looking for custom hangers in the UK printed with a logo then visit Valentino's – www.valentinosdisplays.com. Contact: info@valentinosdisplays.com or 01489 808007.