We're delighted to announce a recently completed order for our client who required a quantity of shaped wooden suit hangers with branding.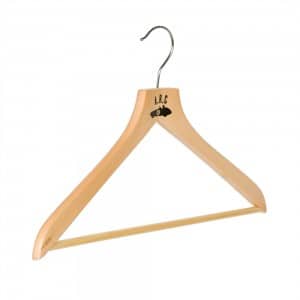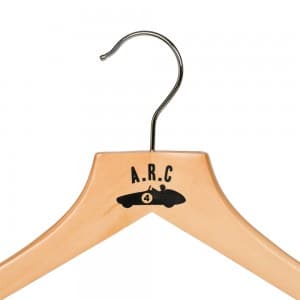 UK-printed hangers by Valentino's Displays will help enhance your brand! Companies brand their hangers for many reasons whether it's a particular brand you are looking to promote or your company logo, hanger printing is now a widely used marketing tool in the retail industry. If you were to go to your local shopping centre you will see just how popular it has become.
From the images, you can see that our client decided on a natural finish wooden hanger without notches with hanger printing, a black ink print that contrasts beautifully and is extremely effective in catching the eye! With this particular print because the artwork is quite bold due to the car design it really did stand out and is different from some of the other custom hangers we have designed for our clients.
If you are looking for custom hangers whether you need custom hangers printed in the UK or engraved coat hangers then Valentino's Displays is your specialist supplier for bespoke retail display equipment and personalised shop fittings.