100 million clothes hangers have been recycled in just six months, thanks to a partnership between Marks & Spencer (M&S) and UNICEF. M&S customers have generously left 100 million hangers behind when shopping, so they can be used again in-store or recycled. Have you decided against taking a clothes hanger whilst in your retail store when asked?
Recycling printed coat hangers, plastic hangers, or whichever variety within the store at the time helps the environment and also saves money, enabling M&S to raise £370,000 for UNICEF, the world's leading children's organisation since the partnership was launched in July 2011. And customers are telling M&S that the partnership is motivating them to get involved, knowing their choice is 'green' and will also help a child's life through UNICEF.
M&S executive director "delighted scheme is working so well"
Kate Bostock, Executive Director of Clothing and Home at M&S said: "We're delighted this scheme is working so well. It's simple but hugely effective. For every customer that doesn't take a hanger, the environment benefits, and one of the world's leading charities benefits. It's now up to us to say a big thank you to our customers and work on ways to make it, even more, engaging so we can raise more money and make a huge difference."
UNICEF UK executive director "overwhelmed"
David Bull, Executive Director of UNICEF UK added: "UNICEF UK is overwhelmed by the positive response from M&S customers who have really taken the UNICEF partnership to their hearts. M&S customers tend to be green-minded, but clearly, the added incentive of being able to transform a child's life, while you shop, is hugely motivating. This is a very strong start to a partnership that we are very proud of. Keep recycling your hangers because we aim to transform the lives of thousands of children – thank you!'
M&S donates 50p for every £1 saved from hanger recycling to UNICEF, to fund a critical new project in two locations within the Mymensingh and Dhaka regions of Bangladesh. This project will provide all the basics that extremely vulnerable children need for a better future, such as clean water, education, and healthcare.
A greener planet?
We think this is a great initiative and one that will get all the customers in M&S but also those that shop elsewhere thinking about being greener and helping such causes.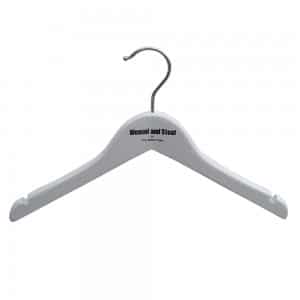 Valentino's Displays supplies an extensive range of hangers whether you are looking for plastic hangers, wooden hangers, or as the image above personalised printed wooden branded coat hangers with a company logo ideal for the retail and commercial environment to our UK and worldwide customers.