Valentino's Displays has recently completed a bespoke project for our client; Weasel & Stoat.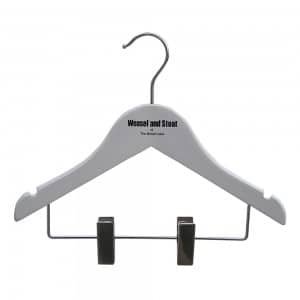 Our client required white child hangers in two varieties. A jacket hanger and a peg hanger with chrome clips. Unfortunately, when our customer enquired about our peg hangers they were out of stock in a white finish however were available in a natural wood finish. Our client decided they wanted the clip hangers to match the jacket hangers so we powder coated the hangers to get them all in white.
We then added the company branding in black colour. Printing the logo directly onto the surface of 100 hangers, which read "Weasel and Stoat of The British Isles". These personalised baby hangers looked fantastic. Thick bold text contrasting against the body of the white hanger created a dramatic visual impact.
For those of you interested in printed hangers branded with a corporate logo or slogan you can find helpful advice here. You can contact us on our UK landline 01489 808007 or email our team at info@valentinosdisplays.com. An alternative to ink printing is laser engraved hangers. Where the logo is engraved into the wood of the hanger. We offer this service and it's hugely popular with our clients. If you want to brand hangers in the UK but want to create a different look this may be for you!