Retailers who can provide unique in-store experiences gain a great advantage over both their bricks and mortar and digital competitors. Giving customers an experience they can't get elsewhere is a fantastic way to encourage customers to make a trip to your store rather than shopping online or visiting a store offering the same products.
In November 2015 Urban Outfitters purchased the Pizzeria Vetri chain from the Vetri Family and was expected to introduce the chain to its flagship stores have already started offering books, coffee and some food in their newest stores. The outcome of this risky purchase is not yet clear, it certainly offers a unique experience, but there are plenty of other ways to use experiences to gain a competitive edge and all signs point to digital.
Retailers are starting to create multi-channel shopping experiences, that is, bringing online into their bricks and mortar stores. Apple has created a seamless link between the convenience of electronic payment and the reassurance of shopping in-store by removing the traditional till area. Instead, payments are processed by staff on iPads, the receipt is then emailed directly to the customer.
This concept can be easily adapted to function in a wide variety of stores, offering additional convenience to customers who wish to take advantage of online services, whilst maintaining the traditional store features. Allowing customers to talk to expert staff, view the product they're interested in, in a physical store, before easily placing an order online for swift home delivery could be particularly beneficial in a store selling larger merchandise such as furniture and white goods.
Providing customers with a shopping option that allows them to walk into a store, scan an item, pay for it on their phone and either leave with the product or organise home delivery is just half the picture. As augmented reality technology develops it is expected it will soon be possible to reduce the scope of a customer's search. Apps are already in development allowing customers to programme their phones with the products they are looking for and then see only those products on the store shelves.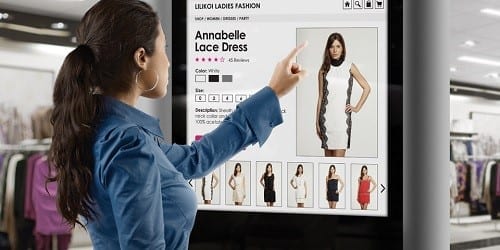 Source: Intel
As technologies, such a virtual reality and augmented reality become more widely available retailers are beginning to pick up on them to provide customers with a truly unique experience. Tesla Motors has recently introduced interactive displays to their Toronto store, including design studios allowing customers to configure their own car and then view it on an 85" screen. Whilst McDonald's has released Happy Meal boxes that customers can fold into a cardboard VR headset. Customers can then download a McDonald's virtual reality app on their phone, slide the phone into the goggles and have a virtual reality experience.
Recent research has found that shoppers are much more likely to purchase home furnishings if they can view the products in their home ahead of purchasing, this is achievable through augmented reality and is something many customers may come to expect in the future.
The shop floor displays of the near future are likely to include a digital element, combining in-store with e-commerce, offering an interactive experience and ultimately encouraging customers to leave the comfort of their homes to visit a physical store.