The till area of your shop is prime selling space. All of your customers will go through this area, making it the perfect zone to increase your customers' spend. Whether you have a large till and queue area or a space that only accommodates one customer at a time, there are plenty of tricks to make the most of it.
We've come up with some top tips to help you make the most of your check-out display.
1. Set up a point-of-sale display that will keep your customers occupied at busy times
Sometimes queues are unavoidable. Peak times can't always be predicted and it may not be possible to meet demand immediately. A slight alteration to your check-out display can turn this into a positive, giving customers additional items to browse whilst they wait, potentially upping their spending.
Queue management systems are an easy way to organise busy periods and ensure you're serving customers in the right order. Add some dump bins with a selection of products too, perhaps the type of products you know customers often forget to pick up whilst shopping. 
2. Organise your counter display to sell small trinkets
If you sell small trinkets such as keyrings and magnets it can be easy for them to get lost amongst other products on the shop floor. These products can be easily displayed on your till counter.
Keyring display stands and magnet display stands take up little space, whilst also placing these products where they are bound to catch your customers' eye.
3. Offer something sweet
We all know how easy it is to be tempted by a sweet treat when it's put in front of us, especially when out on a busy shopping trip. It's the reason Newsagents tend to display their sweet and chocolate offerings right in front of the till.
Even if you're not a food retailer, it can be a good idea to have a sweet offering next to your check-out, think Topshop. Despite being a clothing retailer they often have chewy sweets available to purchase by the tills.
4. Display any promotional offers
If you have any promotional materials advising customers of upcoming offers and events, the till space is the best place to display them. Use literature displays to keep everything neat and easy for your customers to pick up as they check out.
5. Include seasonal products in your counter display
If you've ordered specific stock or have any products that are particularly relevant to your seasonal display, the counter area is a great place to show them off. Use the products to bring your counter and shop floor display together.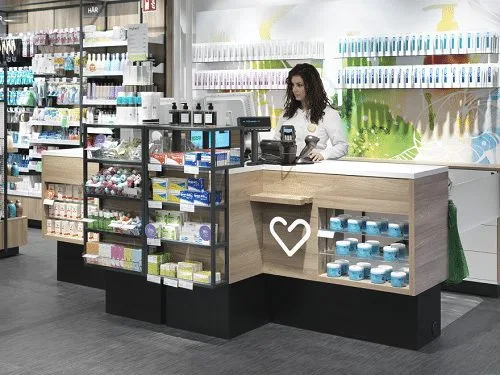 Valentino's Displays have everything you need to make the most of your counter displays, visit our website to check out our fantastic deals.
What's the best retail till display you've seen? Let us know in the comments section below.