You may remember but back in February this year Valentino's Displays published a blog post to announce that Whiteley Shopping Centre was to open shortly as the official announcement had then been set for May 23rd 2013. We also published in 2011 it's initial plans for the redevelopment of the site.
Whiteley Shopping Centre is off the M27 motorway junction 9 which is located between Portsmouth & Southampton. We are now only 1 week away from the official opening of the new 320,000 sq foot shopping centre which is an £84 million pound development comprising over 50 units adjacent to the existing Tesco which is there.
Over the past few months whilst the building site has been getting close to completion we have seen hundreds of people queue up for employment positions within the new complex. There was an open day at the nearby Solent Hotel for those looking for employment opportunities with 1000 positions available for the right candidates.
Queues started forming from as early as 8 am – two hours before a recruitment bonanza to fill positions at the £84m Whiteley Shopping Centre development opened. Job seekers queued into the car park at the  Solent Hotel in Whiteley before the doors opened.
The shopping centre will offer 3 hours free parking in its car parks; East, South, North A & North B. The Tesco car park will offer it's customers 2 hours free parking & Market Square car park will offer 1-hour free parking. These are all within the hours of 7 am – 6 pm. For more information on the parking at Whiteley Shopping Centre, you can visit this page.
Some of the shops at Whiteley will include; Bank, The Body Shop, Boots, Carphone Warehouse, Clarks, Clintons, Fat Face, H&M, Moss, M&S, Next, Schuh, Topman, Topshop & River Island. Here's a full list of the shops. There are also many dining and coffee shops which include the likes of; Caffe Nero, Costa, Harvester, Starbucks, Prezzo, Subway & Chimichanga.
Below is the centre plan for Whiteley Shopping Centre.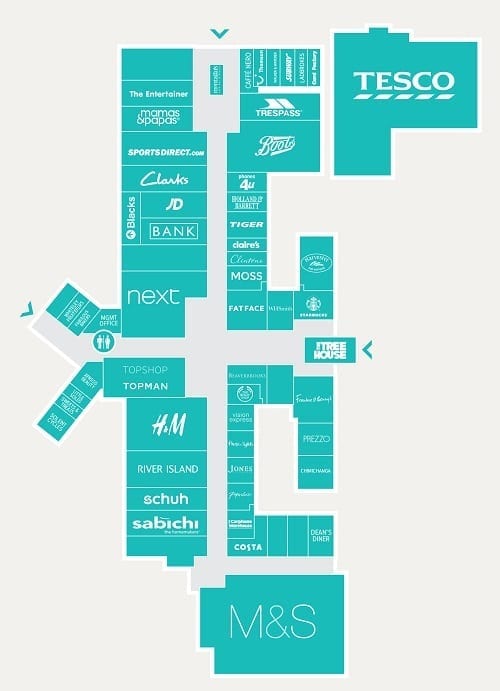 We at Valentino's are looking forward to visiting the new retail outlet in Whiteley next week and updating you on its official opening.