Yesterday morning it hit the headlines that retailer Bank Fashion has gone into administration – making it the first retailer of 2015 to crash. The rate of UK high street store closures remains high, despite growing consumer confidence and a strengthening economy, and this got us thinking, what does it take to make your store profitable in 2015? The retail industry is becoming increasingly difficult to conquer and in order to survive the economy and thrive as a business, it's time to get serious and have a plan action for 2015.
Here are our tips for having a profitable 2015.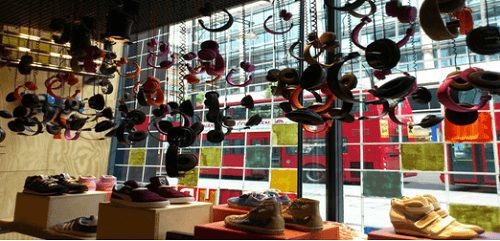 Retail Displays
Shoppers love to discover new items and trends and that's part of the reason they still head to brick-and-mortar stores. Make your store more exciting and give your customers something to look forward to every time they enter. This can be done by simply changing your window display on a weekly basis, re-dressing your mannequins in new styles, or putting timely posters in the windows. Your goal as a retailer is to capture the attention of passers-by and encourage them to enter your shop – this can be done simply by using great window displays.
Get in the Know
Visiting retail exhibition stands and trade shows is vital for staying in the know. They're great for actually seeing and touching the merchandise and seeing what retail displays look like in person, rather than just online. It's always to good to schedule in one trade show a year, whether that is to look for new stock or for new visual merchandising and retail display ideas.
It's all About Your Image
If your fixtures and fittings are out-dated, tired and worn then what does that say about your store? The retail environment is becoming increasingly competitive and therefore it's even more important to ensure your image is right. It's always important to consider what your business looks like to outsiders if you're unsure what impression your store gives because your inside of it all day – ask people! A couple of licks of paint, a new window display and some nice mannequins can make a huge difference to the appearance of your store.
The Finishing Touches
The finishing touches are extremely important in the retail sector, by upgrading your store it's what encourages your customers to spend more and keeps them coming back to your store time and time again. Don't just use plain and dull coat hangers and shopping bags, go the extra mile and invest in customised items that have your brand name and logo on them. By using customised items such as coat hangers, baskets and bags will boost your brand's perceived value and give the impression that you care about your image and your customers – making your customers value you more too.
With the first retail store closure announced just six days into the new year, it's clear that 2015 is going to be another competitive year for retailers, therefore you'll need to go the extra mile to compete and succeed. Follow these tips and you'll be well on your way! Make sure you keep checking into our weekly blog for more tips and advice.